Young Man With The Big Beat
CD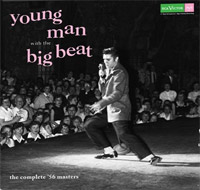 Released: 2011/09/27
by Sony Legacy
5 CD boxset containing the complete 1956 recordings. The last track of CD 4 and the complete 5th are interviews.
Tracklisting
too many takes of shake rattle & roll ( not his finest moment ! ) I'll wait till the price drops to about £20 !
Rating: 3 / 5
I personally like to hear the different tracks of the same song. I like to kind of "understand the thought process that was goin through Elvis' head while he was figuring out how he wanted the end product! I can't wait for this obviously superb set to get to my house, for I have already pre-ordered it!!! 5 STARS all the way!!!
Rating: 5 / 5
Kels
wrote on
October 22, 2011
Beautiful looking set - Bear Family style and whatnot - but I already spoiled my appetite with the FTD pressing of his debut album a few years back, and I can't justify spending $140 for one concert that hasn't been previously released (the Little Rock show) and a few cool repros of posters and contracts when I already have everything else . . . in some cases in triplicate or more! Guess I'll have to wait for the Little Rock show to get a second (cheaper!) escape . . . er, ah . . . release!
Rating: 4 / 5