That's The Way It Is - Special Edition
CD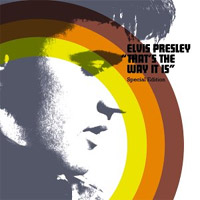 Released: 1970/11
by BMG
Only thing we can say is we hope that the re-release of the movie will receive the same treatment like this - by far the best ever - BMG-release.
ElvisNews review
Finally the long awaited "That's the Way it Is" re-release is available. We first mentioned this re-release in one of our first editions and almost one year later it's released. Was it worth waiting for?

Design

Gladly we knew what to expect regarding the artwork, because there's a big change between the "old" and the "new" That's The Way It Is. From the classic dark cover of Elvis on stage to the bright look it has now. Opening the package, a plastic case with information printed on it, we find three digipacks, in this so called "deluxe edition" it reminds us very much of the "Artist of the Century" box that was released last year. It has the same kind of design and typography. The other version of the TTWII release is a 3cd box jewel case.

The three digipacks are white and contain one silhouette of Elvis on the front in black and white and a "coloured" picture of Elvis inside. On the back is the design of Elvis blouse blown up with the tracklistings. All three digipacks are done this way with different images. Probably it is modern art or something, but we have a kind of feeling the printing went wrong somewhere. Were they out of ink?

There's one twenty-four pages booklet with all the information of all three CD's. The cover reminds of the movieposter, a bright orange/ yellow "sun" with again a black and white image of Elvis in front of it. There's a brief description of the history and the greatness of the show and how it came about on a 'rainbow-like" background. The rest of the booklet is filled with images from albums, singles and some artwork for each CD. It ends with a great action shot of Elvis on stage like we know him from the movie.

Unfortunately there's no other information in the booklet than what we mentioned above, and that's a chance BMG missed. There was so much excitement building up to the actual release, and BMG promotes it like one of the best Elvis' products ever, if not the best! So you might expect some more information, for example press reviews from the concert, movie or album and so on. That could really emphasize the "legendary" surrounding the release.

Content

It took some self-control to do our review like we are used to do, starting with design. Upon receiving the set we didn't know what to do. We felt like kids in a candy shop, not knowing what to take first. Should we play CD2 or CD3 first? CD1 will have to wait until we are recovered from the other two. Just kidding, we listened to that one too already. Well, we decided to use our skip button often and went for CD3. "Stranger in the Crowd" live was what we were waiting for. And not in vain! What a marvellous performance Elvis gave, accompanied by a band and background singers that were up to it too! No, wait we are making a mess of it, our behaviour isn't really of interest to you, let's do it in our usual professional way.

The 1st CD starts with the original TTWII "soundtrack" followed by 7 additional bonus tracks. Of course the old remark that it isn't really a soundtrack is still valid. But all together it is still a great CD to listen too. And with the additional tracks it only lasts longer. Unfortunately "Bridge Over Troubled Water" is still the faked live version, that is the studio version with overdubbed audience. Disregarding this minor the quality is amazing, it sounds clear as never before.

More interesting for the fans is the second CD with the complete August 12th, 1970, midnight show. If you listen to it you can only conclude it's probably one of the best shows Elvis ever gave. He is full of energy, giving it all and really firing up the band backing him up. "Words" for instants sounds so great; Elvis really had much more control of his voice than in the known 1969 versions. "You've Lost That Lovin' Feelin'", partly known but with a great reprise. We can name all 22 tracks as highlight but the entire thing is so great that you have to experience it yourself completely, believe us, when you close your eyes you really feel like being there! It only makes us longing for a boxset with all recorded concerts...

The last CD (yes, the one we already mentioned) is another highlight itself. The first nine tracks are recorded live and lifted from several shows. "The Next Step Is Love" and of course "Stranger in the Crowd" are indescribable, but also "known" live songs like "I Can't Stop Loving You" and "I Got a Woman" got a special treatment by Elvis in those days. The rest of this CD is from several rehearsals, of which we got some on bootleg before, but never in this great quality. Some of the recordings still doesn't sound great regarding sound quality, but as BMG states they are included for historic content. And they made a good decision in this case!! "Santa Claus Is Back in Town" isn't destroyed by scissors, like it would have been a couple of years ago, "Oh Happy Day" is just... well, orgasmic... Sorry, we'll have to stop and concentrate on our own pleasure now. Listen to it yourself!

Only thing we can say is we hope that the re-release of the movie will receive the same treatment like this - by far the best ever - BMG-release.


Tracklisting