Elvis
CD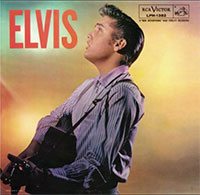 Released: 2014/03
by FTD
Classic album version of a real classic! Bonus songs, the outtakes that are available and the last Hayride show.
Tracklisting
I really don't see anything new here to be honest, but I'll probably end up buying this regardless as once an "Elvis Junkie" always an "Elvis Junkie". Most of the "Rip It Up" outtakes were released on the Platinum Box Set (Take 15) and the Today, Tomorrow & Forever Box Set (Take 14) and the Flashback Book with CD from the 1950's (Takes 10, 11, 12 & 16); so other than the 1 outtake of "Old Shep" (Take 5) from the King of Rock 'N' Roll Box Set and the live recordings from 1956 this is probably the last roundup before FTD is completely irrelevant with a grouping of 1950's outtakes that could have been included with this FTD "Elvis" CD instead of the live stuff which I already have purchased thru the years. Good run while it lasted FTD.
This is an excellent release if you don't already own almost everything that's here. Me? I've already got everything except the handful of unreleased outtakes. I'm not big into outtakes, so for me this is a 3 star release. Not worth the asking price for me. Pass.
Rating: 5 / 5
Having received my copy of the new FTD "ELVIS" CD, I wish to voice my opinion as to Disc 2, the recorded live Dec. 15, 1956 Louisiana concert. To make the same mistake twice is absolutely ridiculous as to the timings of each individual performance at 2:46 both on the back of this CD and the enclosed booklet, not to mention, the crappy sound quality (but that I can understand fully) based on the times where the equipment didn't exist as compared to what is out there today in the year 2014. The highlight of this entire CD to be honest is the enclosed booklet; it is that good! Unseen photos of Elvis from a photo shoot that were recycled for upcoming singles and 45 EP's (that's extended play 45 rpm records for you youngsters out there). Personally I feel FTD could have included a grouping together of released binaural (stereo) recordings on one CD rather than this concert-his last yes, but really? It's been out there prior to this FTD issue and for what we pay, I believe this could have been better value for the money. The actual album & bonus songs are Elvis at his very best during 1956. The outtakes are icing on the cake and once again, for the enclosed booklet, this CD is worth the price of admission.