New Year's Eve
CD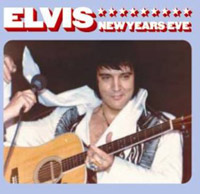 Released: 2003/03
by FTD
Audience recording of this famous show in Pittsburgh on New Year's Eve 1976.
ElvisNews review
After several bootleg releases FTD decided to release this show too. The reason is probably that this concert is considered to be both "historical" and "legendary" by many fans, and a lot of fans haven't been able to get their hands on a copy. The question we have to answer is "is it worth buying for those who already have a copy of the concert, do we get any extra value?"

Design

The cover art is good, nice 70's style with some shots from the actual show and even a couple of tickets on a three panel digipack. The discs are both colored, a red and a blue one. The pictures are all familiar and used on covers of "previous editions" too.

Content

About the actual show we can't say much. Most fans seem to be very familiar with Elvis' last upswing. During most of the shows in 1976 the decline was already very visible, and unfortunately audible too. In this December tour however, he managed to give several pretty good shows, that can even survive a comparison with a lot of shows from the early 70's. It is not a coincidence that the bootlegs from this tour ("Hot Winter Night in Dallas", "Burning Birmingham" and of course "Auld Lang Syne") are among the most popular ones.

This show is no exception, as a matter of fact it became almost a legend on its own, ever since the release of the 2LP set "Rockin' With Elvis On New Year's Eve" in the late 70's. Later we got a CD with a rip of that set, missing a significant part of the show. Live Archives decided to do things better with "Auld Lang Syne" and that is (up to now?) the best version of the show that was released.

FTD used the same recording as Live Archives and tried to make "every effort to achieve optimum sound quality". We doubt if they really succeeded, since the most obvious difference with the bootleg is some (nasty) distortion, especially during "I Got A Woman/ Amen", that wasn't audible on "Auld Lang Syne". Overall the FTD sounds a bit more clear, with less bass and more high tones, but this is something that most equipment can accomplish. As a matter of fact the high tones are sometimes causing a kind of hiss.

Conclusion

A good release for those fans that didn't have "Auld Lang Syne". Collectors will probably feel the need to buy it anyway, but we will keep on playing the bootleg version and add some treble ourselves (mainly because of the distortion).

Still we think this is a nice addition to the series, for the unfortunate fans that missed the bootleg. And we must applaud Ernst for having the guts to release an audience recording of this "legendary" concert. A very good thing is that FTD kept the same price as for the regular single CD releases.
Tracklisting