Summer Festival
CD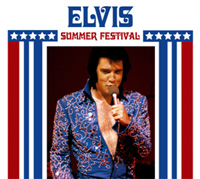 Released: 2005/10/01
by FTD
A soundboard CD with Elvis' dinner show performance from August 11, 1972.
ElvisNews review
The latest outing on FTD is a soundboard from August 1972. Let's have a closer look and listen.

Design

The design is simple but tasteful, with some nice shots of our man, memorabilia and the Hilton. The only minor is that the decoration font is also used on the detailed tracklist inside, which makes it not very clear to read. Of course the songtitles gave no problems, we recognize them, but we spent more than a few seconds to figure out that there was a dropout during the closing of the main show. Well, at least we made it before we actually heard it.

Content

The show is certainly not bad. At several songs Elvis really gave it a try: "You Don't Have To Say You Love Me", "You've Lost That Lovin' Feelin'", "What Now My Love" and even "Until It's Time for You To Go" still seemed to ignite something in the king. Unfortunately it was not enough to hide the fact that Elvis really got bored in Vegas at this time. The show as a whole lacks the vitality of what Elvis did on tours often, even a couple of more years later.
The sound is bearable, pretty "thin" overall. When E pumps up the volume in his finales, it almost becomes ear-aching.

Conclusion

Not a must have, unless you are a completist. This escape might be interesting for those who are not into bootlegs or just missed the releases from this engagement like "Blazing Into The Darkness" or "I'll Remember You", to name a couple.
Tracklisting