All Shook Up
CD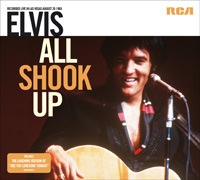 Released: 2005/07/01
by FTD
This release contains Elvis' Las Vegas performance from August 26, 1969 (midnight show). From this show the laughing version of "Are You Lonesome Tonight" originates.
ElvisNews review
With this outing from Elvis' "comeback" in Vegas FTD brings us the third complete (?) show from 1969 (officially).

Cover Art

It's the easiest task in the world to make a cover for an Elvis 1969 show… just put a picture of him during one of those shows on a piece of paper and you have a marvelous cover. No difference this time, and gladly they decorated the pictures in a tasteful way. The coverpicture was also used on "A Touch Of Platinum volume 2", but this time we get it full color.

Remarkable here is that the cover mentions Millie Kirkham, while Elvis doesn't introduce her and Tunzi doesn't mention her in his book either. But then again, Tunzi says Elvis did "What'd I Say" during the midnight show too, and why would Ernst & Co leave it out? Because the total time might exceed the maximum of the CD?

Content

Of course the highlights of this midnight show from August 26 were already released: the famous laughing version of "Are You Lonesome Tonight?" (Elvis Aron Presley and on single various times) and the live-rarities "Rubberneckin'" (exclusive false start) and "This Is The Story" on Collector's Gold (for the completists: also "Baby What You Want Me To Do" and "Runaway" were on Collector's Gold). Still it is fantastic to have those songs in their right setting, the complete performance.

The show starts with a frantic version of "Blue Suede Shoes". The mix is very different from what we are used to. Gladly the rhythm section is very upfront, especially Larry Muhoberac on his piano, the unnecessary orchestra is not very audible, only during the crescendos at the end of the songs. This makes of "Baby What You Want Me To Do" probably the best version we have, but in general the whole show benefits from it.

The first thing in Elvis' performance that appears is that "Are You Lonesome" is not alone in this show. Elvis is laughing nearly the complete show: in between songs, but also during songs. Although his laugh is very infectious, it is sometimes almost as if he drank too much before getting on stage… especially during the intro of "Hound Dog". On the other hand it makes the show outstanding from the others, because next to a few song changes it is nearly identical to the other show, including the monologue and jokes.


Conclusion

All together this FTD outing is a very welcome one and shows what a party it must have been to attend an Elvis show in 1969.
Tracklisting