Polk Salad Annie
CD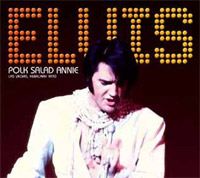 Released: 2004/07/01
by FTD
This CD contains material recorded in Las Vegas in February 1970.
ElvisNews review
When "On Stage Revisited" the working title of this FTD was announced a lot of fans got very excited. Was this excitement justified?

Design

A great cover makes this one of the better releases on this label – at least regarding this point of view. Of course the subject - live material of Elvis in his prime – is an easy one to make a good cover for.

Content

Well, what can we say? We were among the excited fans when this CD was announced, and we can already say that the excitement was completely justified. Even the oldies like "I Got A Woman", "Hound Dog" and "Love Me Tender" to name a few, get a treatment that is so different from the bored versions of later years.
Elvis is in a very good mood during the main (midnight) show on this CD. The result is a lot of songs with laughter in it, but somehow it works not disturbing to us, but instead it makes you want to listen over and over again. The only minor on this release is the transition from "Walk A Mile In My Shoes" into "In The Ghetto", which sounds very strange . We are not sure if it happened on stage or in the mixing boot (note: this turned out to be caused by the player).
One song that needs to be mentioned separately for sure is "See See Rider", a great rockin' version with several false starts. Also "Release Me" gets a special treatment like only Elvis could give it.

Conclusion

As said, the excitement about this release was completely justified. One of the most pleasant FTD releases so far and we're pretty sure it will find its way to the FTD Top 20 pretty soon.
Tracklisting