Recorded Live On Stage In Memphis
CD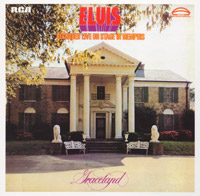 Released: 2004/04/05
by FTD
The complete concert in 7" format cover, original back and front cover, 3 panel Gatefold sleeve and 8 page booklet with photos and memorabilia.
ElvisNews review
In the series of re-releases of (extended) albums that were withdrawn from BMG's main catalogue, FTD released the first non soundtrack album, "Elvis Recorded Live On Stage In Memphis".

Design

The sleeve is great, as with the previous soundtrack releases. Unfortunately the pictures are not all too great regarding quality, but they fit the show and together with a newsmagazine article from 1974 in the booklet they form a welcome addition to this release. We wouldn't mind if Ernst and Co decide to release every original release in this format.

Content

Most fans are familiar with most of the show, since it is a re-release of an original album. More lucky fans also know the almost complete outing on "Steamroller Blues", Fort Baxter's release of the complete show. We have a very enthusiastic review in our import database, that we fully agree with, so for a review of the content we point you in that direction.

Here is a fragment from the "Steamroller" review:
"The title says it all, "I'm a steamroller baby, I'm gonna roll all over you!". March of 1974 saw Elvis on the road from the 1st to the 20th, giving 110% at each show. This is one of a handfull of shows that standout from Elvis' live performance period of 1969 to 1977. It is a damn shame that no one at BMG has given this recording it's proper credit." Well until now that is, with the release of this collectors label edition.

We saw quite some complaints about the sound quality on several forums. Those fans might be right, and maybe it could have been better, but we do certainly not agree with the tone as if it is rubbish what FTD released. In our simple ears the quality is pretty good and it is a joy to actually hear the different voices during e.g. "Steamroller", instead of a wall of voices.

We do agree on the other hand with those complaining about the show not being completely complete, like the omission of the false start of "Help Me". It might have been done for listening pleasure, but FTD is a collector's label, and fans want Elvis like he was. Restarts are a main portion (okay, at least a part) of Elvis shows, and only a few might be distracted by it, we guess.

Conclusion

A very good show in a more than just audible quality is a worthy addition to our collection. A pity it is not really complete, but the beautiful package makes partly up for that.
Tracklisting