The Impossible Dream
CD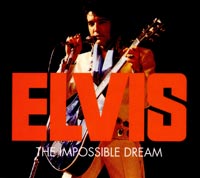 Released: 2004/04/05
by FTD
ElvisNews review
Finally FTD delivered an "early soundboard", from January 1971, for which the fans were begging for so long. Was it worth the waiting?

Design

The design of the cover is simple but fitting. A nice live shot on the front covered by the name of the singer in a very large size (we already saw people complaining about that) and the title in a much smaller font. The inside has more pictures of this engagement, evenly divided between the Green Matador suit and the Now-suit, among them the great shot that was used for the Camden release "Burning Love". The tracklist gives the usual information: writers and recording dates (of the particular show).

Content

From his forth Las Vegas gig we don't have too many soundboards on the shelves. Those three ("All Things Are Possible", "Lean, Mean And Kickin' Butt" and "Snowbird") give the impression that the level dropped down rather quickly during the season. Gladly the FTD release is from the beginning of the engagement.

Before glancing at the real content of the CD we have to mention the sound. The sound is pretty thin, with Elvis very upfront. Still it is very "listenable" and the sound certainly doesn't distract from the performance.
Remarkable is that the CD starts with "Zarathustra", while according to Ernst Jorgensen's own "Day By Day" Elvis started to use that as intro during the Lake Tahoe season later in 1971. During the show E is in a good mood, fooling around with lyrics (Charlie is once again the target), but also in a hurry. Very short versions of "You've Lost That Lovin' Feelin'" and "Polk Salad Annie" underline that. The version of "Something" is one of the better, until Elvis starts fooling around near the ending, which really spoils a great rendition. A beautiful "The Impossible Dream" (with a very long intro) is a great replacement for "Can't Help Falling In Love".

The bonus tracks are a sort of "best of the bootlegs", the rarities of the before mentioned import-titles are collected here, together with two more tracks of the opening night. We understand the addition of "Mystery Train/ Tiger Man", but why is "Can't Help Falling In Love" included, especially since it has a major drop in its sound?
Especially those "rarities from the bootlegs" make this CD a must for the fans that don't have them and it shows that FTD keeps the fan in mind with their release schedule.

Conclusion

A fast and short show, with a great bonus set. Overall not as listenable as the "classic album Recorded Live On Stage In Memphis" that was released at the same time, but still a worthy addition to the (FTD) collection.
Tracklisting