Girl Happy
CD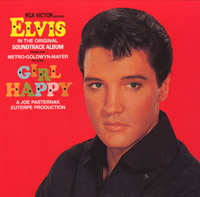 Released: 2003/04/15
by FTD
7" format cover, original back and front cover, 3 panel Gatefold sleeve and 8 page booklet with photos and memorabilia.
ElvisNews review
Yesterday we reviewed the first soundtrack release on the FTD-label, today we aim our arrows on the "Girl Happy" soundtrack.

Design

What makes these soundtrack re-releases special, next to the bonus tracks, is the design of the package. To make this attractive FTD is re-releasing the original albums along the following lines:

1) 7" format cover (like a single or EP)
2) Original back and front cover
3) 3 panel Gatefold sleeve
4) 8 page booklet with photos and memorabilia
5) Original album with original album EQ
6) Additionally all previously released outtakes (if space permits)
7) Additionally previously unreleased outtakes (when available and space permits)

When we saw these words "for real" when we held them in our hands, we could only conclude Ernst Jorgensen and his team came through on their words. A great package with all mentioned above. There isn't much we can add to this.

Content

As a direct consequence of BMG's current streamlining of the world wide Elvis catalogue, a fair portion of Elvis' original music becomes unavailable. We haven't counted the songs which songs become unavailable, but we haven't got that a big problem with a lot of movie songs which might become unavailable. The idea to release these songs so they will remain available to the "real fans" on the FTD label might sound good, but since this is a collectors label, most persons buying these re-releases will have most of these songs in theirs collection already.

So what does this set bring us besides a great design? Well we get 12 bonus tracks (6 titles) in several out-takes. Some of them unreleased some of them available on BMG, FTD or bootleg releases. Besides the title song and "Do Not Disturb" this soundtrack doesn't contain much personal favorites of us. Of these songs we get several new out-takes on this release. Besides that, this release isn't too interesting content wise.

Conclusion

We can be short in our conclusion on release. For a "boring" soundtrack like this one, the package makes it interesting for the fans and worth buying. We only wished this would have been the first "Girl Happy" release so we hadn't bought several copies, presently gathering dust in our collection, we could have stopped after buying a great release like this package.
Tracklisting