Elvis 56 - Remastered Edition
CD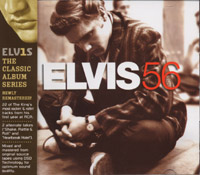 Released: 2003/01/07
by BMG
A special edition remastered edition of the 1996 release 'Elvis 56'.
ElvisNews review
It was only 1996 when this CD was originally released, but technology improved over the years. That's why this CD is re-released in a remastered version, using the DSD technology.
The choice for this album is logical. After withdrawing many releases from the market, this is one of the essential albums to make available again, since it covers the magical year 1956, in which Elvis conquered the world with his first RCA Victor recordings.

Design

The cover art is exactly the same as the 1996 release, except for a short remastering note (no explanation whatsoever) and the change of the year of release (2002?). The only "extra" is a piece of paper, in "ELV1S 30 #1 Hits"-style, around the box to show that it is a newly remastered release. Since we have no review of the original on-line, here is a short description.
Extensive information on the tracks and recording dates, including the musicians and an historical overview of 1956 (related to Elvis of course) form the text of the booklet. The text is decorated with some marvelous Wertheimer-pictures.

Content

As the title indicates, the CD contains the nearly complete RCA Victor sessions of 1956. Nearly complete since the "Love Me Tender" session is missing, but probably no-one will blame BMG for that. Two outtakes are included on this 22 track CD, giving us two versions of "Heartbreak Hotel" (master and take 5) and "Shake, Rattle And Roll" (master and take 8).
All songs are so familiar that they don't need an extra introduction, so let's "get a hear" on the quality. Well, we can be short about that, it definitely improved. It is hard to describe, but the recordings sound more "fresh", there is more depth in it, they almost get to the warmth and depth of the good old vinyl, in other words less "flat" than the known CD-versions.

Conclusion

Since there are no extra tracks (read: outtakes), you do not need this release for the music itself if you have the original. Still we think it might be worth the effort to get rid of the original - you can always give it to a non Elvis-fan as a great introduction to the King's music - and buy this one.
Tracklisting