It's Midnight
CD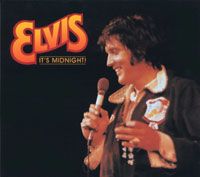 Released: 2002/01
by FTD
Recorded live at the Las Vegas Hilton, August 24, 1974 - Midnight Show, completed with the August 29 Dinner Show.
ElvisNews review
The latest release on the FTD label brings us another concert. This time the focus is on August 1974. Unfortunately the show isn't complete, as the producers explain in the notes that's because the average show in August 1974 was too long for a tape. The tape of this particular show from the 24th (Midnight) ran out after "If You Talk In Your Sleep" and therefore the producers decided to complete it with a part of the August 29 Dinner Show for the "complete concert" experience.
For the design of the cover we point towards all other FTD-reviews, but we have to admit that there is some extra info, and all in all the cover is more than okay.
The show itself is pretty good. Gladly Elvis isn't rambling too much, like in other shows we have from this engagement. In a lot of songs he sounds like he is in "cruise control mode": not really inspired, except for a few demanding things like the ending of "The Wonder Of You" or "How Great Thou Art". Maybe we are just spoilt, and are not as anxious to have a new show like a couple of years ago, before the soundboard-age. Still this CD gives almost 80 minutes (!) of listening pleasure, with a few highlights. "It's Midnight" is always a pleasure to listen to and "I'm Leavin'" is certainly one of the more attractive tracks. We prefer "Spanish Eyes" without overdone trumpets, but it is at least a more "rare" live track. "Polk Salad Annie" gets almost irritating during the final, oh how we prefer the early versions. Gladly "If You Talk In Your Sleep" makes up a lot for the PSA-punishment. Jorgensen & Co. made a good decision to use a show with "Early Morning Rain", always a pleasure to hear the "earlier" versions of this song too.
This FTD release is certainly not the best in our opinion, but it fits perfectly in the "Something For Everybody"-thought, which worked during Elvis' life and still does.

Tracklisting