The Complete Louisiana Hayride Archives
CD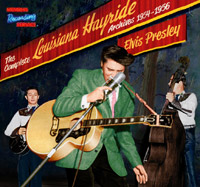 Released: 2011/11/21
by MRS
CD/Book on Elvis' appearances on the Louisiana Hayride.
ElvisNews review
Memphis Recording Service adds another themed item to their collection. Is it as good as we expect from them by now?
Design
Overwhelming is about the only word I can come up with. The 6" book is filled with tons of pictures, well-known and unknown (at least by me). There are even some rare color shots of our man, among it "the first ever of Elvis" (which looks colorized to me, but I'm no expert). In addition to all photos there is a lot of memorabilia: souvenirs, labels, newspaper clippings, contracts and so on. Above all the Hayride Archive is very well documented, I think nothing more can be said about Elvis' appearances there and this book/CD.
Content
Next to the content of the book, which is described above, there is of course the CD. Most of us are familiar with the recordings. To me they are a must, not to play on a weekly base, but to enjoy the way Elvis played crowds early on during his career every now and then. I must admit I never heard these recordings in better quality. Was Heart Of Stone almost unlistenable in the past, here we have a pretty decent restoration of it. I can't compare the December 1956 show to Sony's recent release, since I decided to skip that overprized one, but I easily believe MRS's claim that this one is better, based upon past experiences with the official outings.
Conclusion
I can only say this is a real jewel, of the same level as Elvis was as an artist in the mid fifties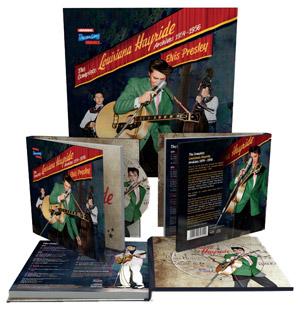 Tracklisting