Standing Room Only
CD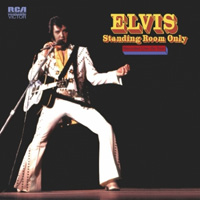 Released: 2009/03/15
by FTD
The album that never was, containing Feb. 1972 live tracks and March 1972 studio material.
ElvisNews review
In the classic album series FTD just released an album that never was. It's not a first, but it remains strange…
Design
The front cover looks very familiar, but it always brings NYC in mind. There are some great shots used on the cover and the "back" is in the same style as the real albums in the 70s: advertisements for other "recent" albums, Now and He Touched Me.
The booklet contains the usual liner notes, background information and of course the memorabilia and photos. Most of them are from On Tour, and quite some were seen recently in Madison's Standing Room Only Tapes-series.
Content
The first CD is nearly the same as the 1999 release Burning Love. Okay, the order is somewhat different and there are two additional tracks: the long awaited All Shook Up and something we really can't live without: the immortal Teddy Bear/ Don't Be Cruel medley. Still it belongs to the best FTD discs available in my ears so far. Not every song is outstanding but Elvis' voice at the time makes them something special. Of course no CD can be wrong when containing the two ballads Separate Ways and Always On My Mind. Add some of my personal favorites Never Been To Spain, Burning Love and the Little Sister/ Get Back medley and you have me quiet for a while. I already ripped it for my MP3 player, and I bet it will be on there for a long, long time.
The second CD is something different, no mixture of live and studio recordings, but only outtakes of the latter. We got many of them over the years on various box sets and FTD releases. It is nice, of course, to have them all together here, but it's obvious my taste changed over the years. Ten years ago I probably would have played it over and over again, but now I have something like "again Where Do I Go From Here?" when the track starts for the 5th time.
It will remain on my player for a while, I guess, but not as long as the old familiar versions of disc one.
Conclusion
A good addition to the FTD series in superb sound quality, but nothing really spectacular if you have the box sets of the last decade and 6363 Sunset. Disc one is a topper, but VERY similar to Burning Love (1999) and disc two is for the diehards.

Tracklisting
Rating: 3 / 5
Rating: 5 / 5
Rating: 3 / 5
Rating: 5 / 5
Rating: 5 / 5
Rating: 4 / 5
Rating: 3 / 5
Rating: 4 / 5