Elvis - The Dutch Collection
CD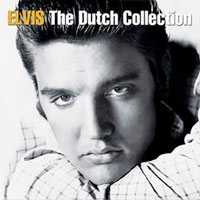 Released: 2007/08/16
by BMG - Nederland
A 50 track compilation selected by the Dutch fans to commemorate the 30th Anniversary of Elvis death.
ElvisNews review
And yet another collection is added to the collection. This time with a good excuse, since I can't help I'm a chauvinistic pig ;-).

Design

Somehow the picture at the front cover looks a bit (too) familiar. Gladly some of the pictures in the booklet are less worn out (and there's actually a great 1972 shot). Our good friend Rogier van Luyken wrote the liner notes, and those that know his writings in a Dutch fanclub magazine know that it is very enthusiastic and in this particular case he could go all the way. As an extra there is a list of people who contributed to the collection by voting for their favourites. Yours truly is among them, but there are some others on that list that I would not be found dead with ;-). The track list has no extra information next to the authors. It is remarkable that a lot of the songs are just published in 2002… I don't get that rights stuff at all, but for the newbies it would have been nice to have at least the recording dates available…

Content

I already expressed my thoughts over a collection like this. The idea is pretty nice towards the fans, but unfortunately the "pre selection" of songs was very strange. I could not vote for 2 of my favourites since they were not in the list. So it was basically a good idea, but worked out badly.
All together it turned out to be a nice compilation, but I doubt if it will find its way to my player often. On both CDs there are some tracks that I really don't like. I really don't understand that "Wooden Heart" ends up on compilations like this over and over again, so that's a minor for CD 1. CD 2 is completely spoilt by the remix of "A Little Less Conversation" and I have the laughing version of "Are You Lonesome Tonight" more than enough.
The last reflection that I have to make is that it is very, very strange "That's All Right" is the only Sun track on these discs (okay, and the 70s are way overexposed).

Conclusion

With CDs like this you can't make everybody happy, certainly not the hardcore fans, but I do think it turned out to be a nice package for the casual Presley listener. The discs show the diversity of our man pretty well.
Tracklisting
When such compilation will be made in Poland... Our BMG shows no interest on Elvis - they have put him in a box with "oldies". Shame...
Rating: 3 / 5
So, which 50 songs did the Dutch fans select? How about posting the tracklisting.
Rating: 3 / 5
Jerry: scroll up- you're looking at the Dutch picks. Yes, they are very similar to most familar hit compilations, with some exceptions...
Rating: 5 / 5