Rock 'n Roll Hero
CD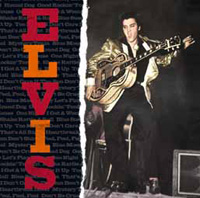 Released: 2006/09/13
by BMG
16 track budget CD from BMG
ElvisNews review
BMG discovered budget releases …

Design

A very dark design with the same use of song titles as on the Genre releases. Inside no other info than the tracks, composers and release dates. And that isn't even specific it reads "Originally released prior to …".

Content

BMG tries to squeeze the last dollars and euros out of Elvis' older material with copyright on this material expiring in Europe. A compilation of Sun and early RCA work, 16 tracks in total running just under 37 minutes. A real shame these days! With the reissues of the very short Camden releases in mind there appears to be a patern here.

Is it a bad release? No it isn't! We can be brief on that, Elvis' early work really rocked, so here we have a compilation which fits in every jukebox. Another sixteen songs could, or should we say "should" have been added easily, making this a great release from our Rock 'n' Roll Hero.

Conclusion

If you have a CD jukebox, get it, otherwise only if you collect different covers.
Tracklisting