Spinout
CD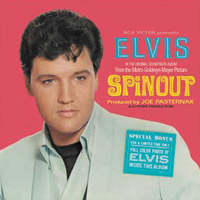 Released: 2004/05/20
by FTD
ElvisNews review
The seventh "original soundtrack" has just been released by FTD. This time the immortal "Spinout" saw the light of day.

Design

As we are used to by now, the coverart is marvelous. The original album cover, nice pictures and a booklet with quite some background information, on both the movie as the session. The booklet has a great picture of Elvis with the Jordanaires in the studio, which we saw for the first time on the popular For Elvis CD Collectors site not so long ago.

Content

Spinout is certainly not one of the worst soundtracks, a nice combination of fun up tempo songs (e.g. "Adam And Evil", "I'll Be Back", "Never Say Yes") and a couple of beautiful ballads like "Am I Ready" and "All That I Am". The bonus songs made the original soundtrack album something special compared to other soundtracks.

Dylan's "Tomorrow Is A Long Time" can't be heard enough, the same can be said of the bluesy "Down In The Alley" and "I'll Remember You" is certainly one of Elvis' better efforts in the mid sixties.

The outtakes shows the great fun Elvis had during this session, clearly not taking the material seriously. But most of us knew that already from the various bootleg outings with songs from these sessions. It's good to have them in this quality anyway, and for those that do not know the bootlegs at all it will be fun to listen to for the first time.

Conclusion

One of the more pleasant soundtrack releases that will find its way to our CD player more often than most of the others.
Tracklisting