Elvis At Sun
CD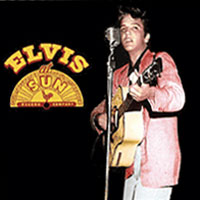 Released: 2004/06/22
by BMG SMG
The definitive release of Elvis' 19 Sun masterrecordings.
ElvisNews review
Released in the celebration of "The 50th Anniversary Of Rock And Roll" is a compilation of Elvis' SUN master recordings. Is this the definitive collection of Elvis SUN recordings?

Design

The design is done in the colors of SUN, black and yellow. Inside some nice images of a very early Elvis and interesting liner notes from Sam Philips' son Knox Philips. Great to read his memories of his fathers enthusiasm on his "That's All Right" recording of Elvis.

In the booklet Ernst Jorgensen describes the details on these recordings in the chronology of the recording dates. Reading this information it is a pity Sam didn't keep a better administration of his work and didn't take more care of his tapes. We would have had much more SUN material when he had stored his Elvis recordings better (and why shouldn't he, it made him a lot of money, almost from day one) and other artists wouldn't have recorded on tapes containing Elvis! We must add, that remark is easy to put down looking back 50 years later.

One thing we miss in the booklet are the details on the tapes and new discoveries. A lot of that has been spread through the world wide web and fan club magazines, but it should be part of the booklet too. The upcoming Follow That Dream SUN compilation will probably put this straight, and document everything for the ever information hungry fans.

Content

The CD contains nineteen SUN master recordings in a good quality. Elvis first private recordings on the SUN label like "My Happiness" are not part of this CD. Ernst and his team were able to come up with new tapes and the remastering techniques improved too so we get these historical recordings in the best quality yet. We miss information on the remastering though, it only mentions that the audio restoration and mastering have been done by Kevan Budd. The team deliverd what they promised sound-wsie, the sound is great, so the collectors owning several SUN compilations already must have a good reason to skip this one.

This album is released in the worldwide hype of the anniversary of the birth of Rock And Roll which is generally dated as the day Elvis recorded "That's All Right". Although some earlier records claim the same title, like Bill Haley's "Rock Around The Clock". But Elvis and Bill don't seem to have any problems over that when you look at them shaking hands on the picture of both rock and roll icons in the booklet.

Back to the rock and roll hype. Listening to the various tracks on this album, only a few songs are rock and roll. "That's All Right", "Blue Moon Of Kentucky", "Baby Let's Play House" and "Good Rockin' Tonight" are definitively rock and roll material. "Milcow Blues Boogie" is good example of how Elvis turned older songs into rock and roll combining several kinds of music like blues, country, "hillbilly" and adds that magic touch he put on most of his recording.

Rock and roll is more than just up tempo music, it is also about the content of the song too (just listen to the lyrics on "Let's Play House"). Nowadays it is a term for any kind music that can not be categorized as ballad, country, gospel, R&B and so on. With that in mind, what do customers expect, and what do the get, when this release is part of the 50th anniversary of rock and roll?

But other songs like "Harbor Lights"', "Blue Moon", "Tomorrow Night" and I Forgot To Remember To Forget" are beautiful traditional ballads but no rock and roll as such. The same goes for the bluesy personal favorite "When It Rains It Really Pours" (when Elvis sings he really pours it out). Hopefully the public will take this album as a mid-fifties compilation, not being disappointed it isn't just a fifties rock and roll classics compilation.

With the expiration of the copyrights on some of these recordings just around the corner, this will probably be one of the last, if not the last big SUN release by BMG. We expect to see a lot of Sun compilations in the near future, but if they can compete with this one … probably in price only.

Conclusion

Is this definitive Sun rock and roll , probably for Joe Public. The previous SUN compilation "Sunrise" probably contained too much in too varied audio quality to enjoy as "just an Elvis CD". With the extra attention surrounding the 50th anniversary of Rock And Roll a lot of people's attention will be directed to the SUN label and these recordings.

The longtime fans will probably get this CD for now and the great quality we get these songs, but eagerly await the 3 CD collection which will be released on the Follow That Dream collectors label at the end of this year as (hopefully) their definitive SUN collection. Let us hope that set will be mixed in the same great quality.
Tracklisting