Takin' Tahoe Tonight!
CD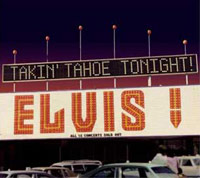 Released: 2003/10/13
by FTD
Mothers Day Concert from May 13, 1973.
ElvisNews review
After several releases of this show as audience recording on bootlegs, this so called "Mother's Day Show" of May 13, 1973 in Lake Tahoe found its way to an official soundboard release finally. It only took four CD releases to get the official soundboard, does it deserve to be released?

Design

After the psychedelic Chinese take-away design of "Dragon Heart" (as we saw it described on several places), the cover of this FTD is a relief. This cover is a very original one, no Elvis on the cover, but a (rare) picture of the Tahoe venue when Elvis performed there. They altered the original photo (taken in daylight) to make it fit this "evening" design. It looks like just a non artistic cover, but probably a lot of work went into it. Inside several rare pictures of Elvis. Overall we think some plain pictures of Elvis are enough for the average Elvis-fan buying these special fan-releases..

Content

In our cheered review of the two import releases of this show earlier this year, we already described the show shortly as being good. Elvis was in a good mood, did the regulars with whole his heart and even some rarities ("Release Me", "Faded Love") were performed.

We predicted that it would be a wise decision to wait for the FTD release of this show, and maybe we should start a fortune teller company, since the prediction came true completely. We must admit that we had some help from the first Follow That Dream promo CD which contained "Faded Love" from this show.

This soundboard, although mono, is nearly perfect. Unfortunately you can hear the signal going into red sometimes when Elvis really uses his power, but overall it is a fine sounding show. It proofs that a good mixed (mono) soundboard doesn't always need any artificial gigs and is the real treat.

Conclusion

We can only say we are very glad this show had its official release finally. It is the best soundboard release on FTD in our ears so far (disregarding the officially taped 1969 and 1970 shows of course).
Tracklisting