2nd To None
CD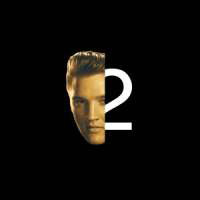 Released: 2003/10/07
by BMG
Follow up to ELV1S 30 #1 Hits, including the new track "I'm A Roustabout" and Paul Oakenfold remix of "Rubberneckin'".
ElvisNews review
Finally out is the long awaited follow-up for the worldwide bestseller "ELV1S 30 #1 Hits" titled "Elvis 2nd To None". Is this release second to none?

Design

BMG continued the modern design used for the predecessor of this release in most of the world. A simple black cover with only half of Elvis' face and half a "2". How many artists can sell an album with only that on the cover? An exception is made for Canada and the United Kingdom; they get a "silver ELVIIS" cover which looks like a straight follow up to the ELV1S from last year. If our poll is representative, 80% of the fans prefer the last one, perhaps something BMG should take notice of.

The booklet is very informative with an introduction by Ernst Jorgensen and a short well-written biography by Peter Guralnick. A good choice regarding the buyers BMG has in mind for this release (indeed, not only us fans). The printing on the illustrative pages doesn't look very sharp, that's a pity.

The theme is the same as in the television commercial; Elvis is the first to do everything.

"Before anyone did anything, Elvis did everything.
1st to create hysteria
1st to be censored
1st to have a private jet
1st to go unplugged for an audience
1st to perform an entire concert televised globally
1st to have his own crib"


On the song details they only added the chart positions for the US and the UK again, it would have been nice to see more chart positions from around the world, which really shows Elvis is 2nd to none. Fortunately they left out the corny EPE souvenir sheet the E1 album contained.

It is good to see this release is dedicated in the memory of Sam Philips ("I was there when it happened, So I guess I oughta know") who recently passed away. He was there to capture the "new" sound of Elvis from which eventually all the songs on this release emerged.

Content

We all know the tracks of course, as a fan we buy this release for the expected sound quality and the complete new song "I'm A Roustabout".

The sound of this release is very good again. As on the E1 release the producers went back to the original tapes and restored / remixed them state of the art. On some songs you hear this very well. Smaller instruments, finger snapping and other smaller sounds are clearly audible. The fifties tracks still have some hiss on them, but that is simply part of the historic recording. We also hear some hiss on "Wear My Ring Around Your Neck" and "Memories", which is more disturbing. But remastering can't take everything out without damaging the total sound.

Sam Philips' first Elvis release "That's All Right Mama" never sounded so fresh, and the same goes for Elvis first #1 country hit "I Forgot To Remember To Forget". On "Trouble" you feel the atmosphere of the song really well. On the sixties tracks the improvements are very audible. On "A Mess Of Blues", and "Little Sister" Elvis really enters the room, haven't heard these songs this powerful. Even thought that a mariachi band entered the house, but that was 'Bossa Nova Baby". On "Don't Cry Daddy" and Elvis strong voice very up front give this song the power it needs.

The seventies sound as if they were recorded yesterday. Personal favorites like "Kentucky Rain", "Always On My Mind", "Promised Land", "Moody Blue" and of course 'An American Trilogy" got several spins. Elvis voice sounds very fragile and sincere on the last one. Exactly how we want to hear it. The stereo on these tracks is very clear on these songs. Hopefully this release will also see a DVD-Audio version, can't wait to hear Elvis' all around.

The second reason for buying this release is the newly discovered song "I'm A Roustabout". Not a hit or Elvis classic as the other songs on this release, but special to the fan who already has everything. Finally we hear this song complete and in a very good quality. You can still hear it is lifted from acetate, and it isounds a bit sharp in comparisson with the other songs on this album, but with everything else dug up from history, you have to take it as it is.

We still don't get what the controversial part is in these lyrics, but we live in a different era now. Guess this is fortunate for BMG too; otherwise this release should probably contain a 'Parental Advisory" sticker. Listening to it now we can't understand not using it. It is a typical movie song, but it has a certain spark which makes it an above average movie song.

This release ends with the 2003 Paul Oakenfold remix of "Rubberneckin'" which expanded Elvis' time on the charts with yet another year. Although received much better by the "older" fans than "A Little Less Conversation" since it remained closer to the original, it didn't make as big an impact as the ALLC mix did.

Conclusion

We don't understand BMG's luxury problem that there is too much material to chose from, even choosing from only the US and UK Top 10 hits. Simply make it a double album, you've done it before, many times and will do it eventually with the upcoming special edition of 'ELV1S 30 #1 Hits". We simply want more of Elvis' heritage presented in this great quality.

With this release BMG continues the standard they set with the "ELV1S 30 #1 Hits" release. With "E2" in our hand we already look forward to E3. This album is "second to none" it stands equal to its predecessor.
Tracklisting