Aloha From Hawaii Via Satellite
CD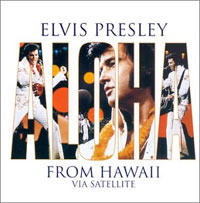 Released: 1973/02
by BMG
Elvis' most famous performance.

ElvisNews review
Elvis Presley performed before a worldwide television audience of over one billion people on January 14, 1973. The soundtrack from this performance, Aloha From Hawaii, was released on February 4, 1973. It reached number one on both the pop and country charts selling close to five million copies in the United States alone, and almost twelve million worldwide. Oddly the concert was not broadcast on American television until April of that year.


In many ways this concert and the subsequent soundtrack album release would be Elvis' last grand hurrah. There would still be excellent songs and good live performances but a deterioration would begin to set in which would continue for the next four years.

He looked good, performed, well and sang superbly. He surrounded himself with his usual crack band, a full orchestra and two backup groups of singers. The resulting album remains one of the great live documents in music history.

The first section of the album presents Elvis at his best. The usual introduction of "Also Sprach Zarathustra" leads into "See See Rider" and an energetic and rocking "Burning Love." He would always begin his concerts in like fashion in order to ramp up the energy of the audience and the response here is immediate.

It was then Elvis' custom of slowing a concert down and here we find a cover of George Harrison's "Something." He follows with "You Gave Me A Mountain" which remains one of the best live performances ever recorded by him. The vocal and passion still send chills up the spine 35 years later.

"Steamroller Blues" was originally a simple song by James Taylor. Elvis would release it as a single and interprets it from a blues/rock perspective. This song was a classic example of how he could transform songs and make them into his own unique creations.

Elvis continued his trend of giving short shrift to his classic fifties hits. "Blue Suede Shoes" and "Hound Dog" both clock in under a minute. He sounds disinterested on "Love Me" and "A Big Hunk Of Love."

He is on more solid ground with the country hits, "I'm So Lonesome I Could Cry" by Hank Williams and "Welcome To My World" by Jim Reeves. He just had the knack of taking these classic country songs and updating them with his wonderful pop voice. He made them accessible to both pop and country fans.

His continued to present "American Trilogy" as a highlight of any live performance. This song was a medley of "Dixie/Battle Hymn Of The Republic/All My Trails." Elvis always treated this song as a gospel type performance. It is also a song of patriotism and it finds Elvis completely invested.

The original release of Aloha From Hawaii contained 22 songs and was only Elvis' second two disc album. It remains one of the essential releases by Elvis Presley and no serious music collection should be without a copy.

Tracklisting
Rating: 1 / 5
Rating: 5 / 5
Rating: 5 / 5
Rating: 4 / 5
Rating: 3 / 5