The Elvis Broadcasts On Air
CD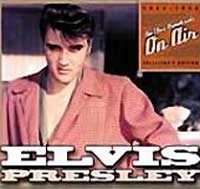 Released: 2002/03
by Cleopatra
A new Hayride collection, but more complete than most, it also includes "Hearts Of Stone".
ElvisNews review
Cover Art

This release is not just another Louisiana Hayride CD. The package is a very nicely designed set. A digi-pack with folds out 3-ways with great pictures of Elvis on tour in the early fifties. We did miss a booklet with to finish this set off completely and award a 10 for design. The CD itself is a golden disc.


Content


This CD contains live recordings from various appearances on the Louisiana Hayride from October 16 1954 to December 15 1956.


All tracks have been digitally remastered ("24-bits process") and on the first three tracks from 1954 you can hear this very well. These sound better than any of 30 or more Hayride compilations we have.


All tracks are taken from vintage acetates, but the 17 tracks that follow are from lesser quality than the first three despite the remastering since you hear a lot of 'acetate'. We get 'Heat Of Stone" and some jingles and Radio broadcasts regarding Elvis' appearance and a telegram Elvis and the Colonel send the Hayride on their 10th Anniversary Broadcast.


Conclusion


A nice and pretty complete Hayride compilation in a very beautiful designed set. If you buy a Hayride collection, this is the one you should get.

Playing Time 53'08 / Cover Art 9 / Sound Quality 7



Tracklisting
Some one should have taken cleopatra and put it on a barge and sent it out to sea. just another re-peat of a repeat. the cover didnt even match the date.
Rating: 1 / 5
ext_mnx
wrote on
September 08, 2007
I have it and I love it!