One Night In Vegas
CD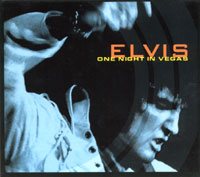 Released: 2000/12
by FTD
By far the best FTD-release so far. Gladly we got it now, and didn't BMG wait a couple of year to release it on the major label.
ElvisNews review
Released on the Straight Arrow label is an audience-recording of Elvis' May 7, 1973 midnight show. Does it give me fever?



Design

As we have become to expect from the Straight Arrow label the design is top notch. This CD comes in a deluxe package with a 16-page booklet, containing a collection of live- and candid photographs from April, May and June 1973, rare Lake Tahoe memorabilia and the disc looks like a menu card.

Overall the design has a very modern look with a touch of the seventies. Great images of `Elvis in an average shape according to some newspaper reports. The liner notes are complete and realistic; writing history as it (probably) was and placing this performance in it's right historical content, not buffing up the performance to something it never was.

Content

Only a few days after closing a tour which took him to Anaheim, Fresno, San Diego Spokane and Denver he landed in Lake Tahoe for a series of performances at the High Sierra Theatre of the Sahara Tahoe Hotel Casino. This series is perhaps best known for Elvis' special Mother's Day show on May 13, 1973. Also noteworthy were the riots due to the standard overbooking of the shows by the Hotel management. Usually about ten percent of the reserved tickets were not claimed ... but this was Elvis, so everybody showed up! A lesson in entertainment management :-)

The audio-quality is very good for an audience-recording; with a quality recording like this you really experience the concert from the audience.

As for the show itself the reviews varied. Due to the good conditions and the smaller showroom Elvis voice was in better shape and he had less "performance stress" than on the Vegas strip resulting in generally better performances. ``but the press also stated that "Elvis is some 30 pounds overweight, puffy, white faced... his voice sounded watery, weak and his song delivery was noted to be flabby with occasional dynamic great effort and no enthusiasm". `the fact that several shows were cancelled due to illness confirms this "picture"/.

For me both are true. I played this concert several times before writing this, not knowing what to make of it. . Somehow the concert didn't really catch me, I couldn't get really exited for the concert as a whole while on the other hand I could listen to it several times. Guess this shows Elvis is the greatest entertainer of his time, even entertaining fans with less than top notch shows.

This show is from May 1973, so kind of similar to the globally broadcasted Aloha show, and not all standards are throw-a-ways. Even "I Got A Woman / Amen" medley still has some inspiration (as a gospel should have ?) . The show does contain several highlights mostly the showstoppers "You Don't Have To Say You Love Me", "You Gave Me A Mountain", "What Now My Love", "Suspicious Minds – with a special mention for Ronnie Tutt's performance, is he drumming or firing a riot-gun? – "I'll Remember You" and "Bridge Over Troubled Water". The question is if these songs are really special since Elvis could perform these very well no matter which shape or mood he was in.

As a bonus, an excerpt of "Surrender" and the seldom performed "It's Over", recorded during the Midnight Show the previous day were added, a nice addition to the documentation of this short engagement high in the Nevada dessert.

Conclusion

A top-notch package like this preserves history as it was perfectly; it deserves a better quality concert, both audio-wise as performance-wise.

Track listing:

01. Also Sprach Zarathustra (Theme from "2001 A Space Odyssey") - 02. Opening Vamp / C. C. Rider - 03. I Got A Woman / Amen (medley) - 04. Love Me Tender - 05. Steamroller Blues - 06. You Don't Have To Say You Love Me - 07. You Gave Me A Mountain - 08. Love Me - 09. Blue Suede Shoes - 10. Heartbreak Hotel - 11. Long Tall Sally / Whole Lotta Shakin' Goin' On (medley) - 12. I'm Leavin' - 13. Hound Dog (slow & fast) - 14. Fever - 15. What Now My Love - 16. Suspicious Minds - 17. Band Introductions - 18. I'll Remember You - 19. I Can't Stop Loving You - 20. An American Trilogy - 21. A Big Hunk O'Love - 22. Bridge Over Troubled Water - 23. Can't Help Falling In Love - 24. Closing Vamp.

Special bonus (recorded in Lake Tahoe, May 06, 1973 Midnight show):
25. Surrender (excerpt) / It's Over.
Tracklisting