Essential Elvis, Volume 6 - Such A Night
CD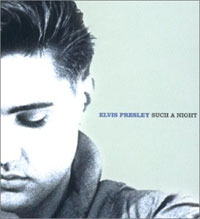 Released: 2000/02
by BMG
Like a speedy Night Rider to the recordshop and fetch that CD, get it for "The Girl of Your Best Friend" too.
ElvisNews review
For a couple of weeks I have Fever, every day when I've just arrived at work, I think Gonna Get Back Home Somehow. Every time when I opened the frontdoor, I'm Coming Home, it went through my mind "postman, please, Make Me Know It… let this CD be there. Because I Believe In the Man in the Sky.. so my prayers will be fulfilled once". Time after time the CD wasn't there… It Hurts Me, and also that Little Sister walking in your way, no, life wasn't easy for this Soldier Boy. In my dreams I almost begged BMG: "Give Me the Right to describe this CD for ElvisNews.com", but I could have walked to Memphis, Tennessee before having the CD in my mailbox….

Of course you are thinking "What is he talking about?". Well, it's been a long time coming, but finally Such a Night: Essential Elvis, Volume 6 arrived. And like any fan I'd rather have a new release yesterday than today. But the waiting has been rewarded and the CD is right in front of me. Let's not beat about the bush: it looks beautifully! On the Internet the cover was called 'a piece of art', and I follow that point of view. It is modern, yet still pervaded with the atmosphere of the sixties, probably because of the nice green colour. On the CD itself is printed with a picture of Elvis reading on a bed. After removing the CD you'll see a photo of Elvis on a police-bike, to me a completely new shot.

At the back of the inlay is a collage of articles, letters and session notes, of which I wished to see more, but okay. Under this collage you see the other half of the picture at the front, which is very artistic. It is hard to explain, but when you'll fold the inlay open and you'll see what I mean. The inlay-text is a good story by Collin Escott and Ernst Jorgensen. They give a short shrift to the idea that Elvis didn't record good music with good mucisians in the 60's. A lot of famous names that recorded in the same studio or with the same musicians are scattered around. Impressing, let's hope the press reads this too!

After the artwork, it's time for the CD itself now. Except the titletrack, which was released on A Legendary Performer, Volume 2-album (ed.: among others) all tracks are never released before by RCA/BMG, so there's new stuff for a lot of fans. The hardcore Elvisfan has, of course, the dazzling beautiful bootlegseries There's Always Me. That this series was ahead in time shows now, because most of the tracks of Such a Night can be found on There's Always Me, Volume 1. Still Such a Night is, like the (sub)title says, an essential release to have on the shelf. Why? Because, even when you have all takes on bootleg, you'll need this one for the soundquality. It is really in-cre-di-bly good! So clear, so powerful, you won't believe your own ears. In my ears it is even better than the Artist of the Century box, which was already near perfect. It is somewhat strange that the name of the digital engineer isn't available. To me and my ears it is Dennis Ferrante, a magician with sound. Ernst told me during the meeting in Dordrecht (ed.: Dutch fanclub convention) that it is a small, heavy Italian man, going along for a while now and who was even present at recordingsessions of the Beatles and the Rolling Stones. All honours to him for this release, because even when you have all takes, they all sound fresh and different. Also all the studio chatter isn't available on There's Always Me. The CD has a good trackorder and is easy to consume, it reallly sounds like you are present at the recordings themselves. It was A night, ooh what A night It Really was!.

Personal highlights on this CD: Make Me Know It, Fever, I Believe in ihe Man in the Sky, Little Sister (listen to the bass….wow!), Gonna Get Back Home Somehow (the drummer goes really crazy at the end) and Memphis, Tennessee (warning: don't open your bass completely, otherwise you'll blow your speakers).

So how is my verdict on Such a Night? Well, that's an Easy Question: it is first class!

Like a speedy Night Rider to the recordshop and fetch that CD, get it for "The Girl of Your Best Friend" too. When you are finally at home and hear Elvis sing There's Always Me, you'll Surrender immediately for the next 53 minutes and enjoy the evening, I mean Such a Night…

ElvisNews.com's track by track view:

1 - Such a Night
The only track that was released previously. For the first time on "A Legendary Performer, Volume 2", later on the 24 Karat Gold version of Elvis Is Back, among others. It is the version with two false starts, from takes 2 - 4, according to the engineer. 

2 - Make Me Know It, take 3
Probably one of the highlights of the CD. Not as clean as the released version, they were still searching, especially the Jordanaires.

3 - Stuck on You, take 2
Close to the original, Elvis "hit a few bad notes", breaks down in the finale. 

4 - Fever, take 1
Available on There's Always Me, Volume 1. Also very close to the released version. A great "uh" before "'til you sizzle".

5 - The Girl of My Best Friend, take 6
"Don't speed it up", Elvis told them and he got a relaxed version. Another one of the highlights.

6 - Soldier Boy, take 1
On some of the other tracks you might wonder why they did more takes. On this one you won't: Elvis is obviously not ready for it yet.
7 - Surrender, take 9
Almost the same as the original, great finish.

8 - I Believe in the Man in the Sky, take 1
False start, released before on the "Stand by Me"-bootleg. Very similar to the original too.

9 - Give Me the Right, take 2
Millie Kirkham is really wailing on this one! Splendid! Available on There's Always Me, Volume 3 and Something Complete before.

10 - I'm Coming Home, take 2
Also available on the "There's Always Me"-series (#2) and Something Complete. "Let's start it off in the right tempo" says the engineer. "I need a couple of lines Mr. Sholes, hold it just a sec" was Elvis' reply. The piano solo is marvelous.

11 - There's Always Me, take 9
Bootlegged often, very close to the final cut.

12 - Little Sister, take 9
Another one "from" There's Always Me (3). It's obvious why this is one of the more popular sixties-tracks. False start.

13 - I Met Her Today, take 4
Smooth, smoother, I Met Her Today. Wonderful!

14 - Gonna Get Back Somehow, take 5
Another one that's very close to the original, 24 Carat Gold had this one too.

15 - Night Rider, take 5
24 Carat Gold again... close to the original.

16 - Easy Question, take 1, 2
"Now if we can get this big sonofabitch off the ground we're gonna take off". Elvis doesn't even start in take 1, but holds it because it's to fast. Very relaxed.

17 - Suspicion, take 2
Not as strong as the original, still a good one. Available before, but not on BMG.

18 - Please Don't Drag That String Around, take 1
Much rougher than the polished version we all know. Available on There's Always Me, Volume 1 before.

19 - Memphis, Tennessee, take 5
1964 version, very close to the original. A little less emotion in the "only that I miss her"-verse.

20 - It Hurts Me, take 1
It's the first take... and Elvis did really improve.



Tracklisting