The Wonder Of You
CD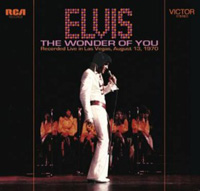 Released: 2009/06/29
by FTD
The complete August 13, 1970 Dinner Show.
Tracklisting
I am not that excited about this FTD cd release as i already own it in the box set "TTWII"~the complete works!(6 cd and 3 dvd set)..i must stress tho that i love collecting the superb FTD/RCA/BMG albums(have been since the very first cd in 1998)but i think albums like this should be in a box set with 'other' shows recorded at the las vegas shows in august 1970..mind you,if the "mix" and sound(stereo) is far better i might be tempted to get at the end of the month?/even if its to be a "completest"!!-i do have every FTD cd...I guess i will 'listen to the again'?/..in a better quality!!!.(the front pic looks good tho)
Rating: 3 / 5
I can't wait for this release. it doesn't matter which concert i listen to from 1970 i can listen to it over and over again. however i do agree, that this should be in a boxset, rather than on it's own. Why can't ftd just release a ftd boxset, with 200 page booklet, all 6 shows on cd and be done with it, we all want the footage as well, but i drather see the cd boxset now, then a dvd boxset later. and exactly the same with the on tour shows. why dont you listen to us FTD!!
Rating: 5 / 5