I'll Remember You
CD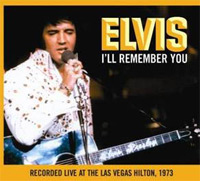 Released: 2008/12/08
by FTD
A CD featuring a soundboard live recording from the February 3 1973 Midnight show as recorded in Las Vegas.
ElvisNews review
The latest "new" outing of FTD is the Vegas Midnight show of 3 February 1973. Was Elvis still at his top like less than a month earlier in Hawaii?
Design
I've seen many worse covers for FTD releases, this one certainly isn't too bad. At least the colour combination makes it readable this time. Four nice shots by Ed Bonja decorate the whole.
Content
The show starts a bit hesitating, as if Elvis wasn't completely present in time. Especially Steamroller Blues lacks the powerhouse ending it got a month earlier, and in many other versions, but also You Don't Have to Say You Love Me doesn't have the usual power. Somewhere during You Gave Me a Mountain Elvis got himself together and found the power of his voice again. Blue Suede Shoes even gives the impression Elvis was actually enjoying himself. Love Me Tender, Johnny B and Hound Dog (with bluesy start) get the usual rush treatment. What Now My Love is the highlight of the CD to me… a very convincing performance! Suspicious Minds is a showstopper as most of the times, this version has something extras since Ronnie Tutt is quite upfront in the mix. I Can't Stop Loving You gets a powerful treatment, a bit too powerful at the end…An American Trilogy is as good as ever.
The two bonus tracks, Sweet Caroline (M.S. 2 Feb.) and the title song of the CD I'll Remember You (D.S. 3 Feb.) are a welcome addition to this disc.
Overall the sound is good, the drums are upfront and sometimes there's a bit overload on the mike.
Conclusion
The start wasn't too strong, but all together it is a pleasant show. Incomparable to what he did a month earlier, but certainly not as bad as where I was afraid for, knowing some of the other shows of this engagement.

Tracklisting
Rating: 3 / 5
Rating: 5 / 5
Rating: 4 / 5
Rating: 4 / 5
Rating: 3 / 5
Rating: 5 / 5