Nevada Nights
CD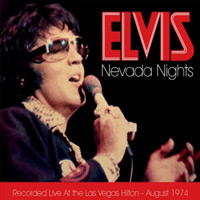 Released: 2008/10
by FTD
This release features Elvis stunning Opening Show from August 19th 1974 as well as the Midnight Show from August 21. 44 tracks in total.
ElvisNews review
In the regular FTD series we get a 2CD with two more or less complete shows. Is it double fun?
Design
As usual with the regular series, one can hardly speak about design. FTD beats itself this time with the unreadable text with the Hilton in the background. Probably that's why they spread the text beforehand. The CDs are red and white, inverse of each other.
Content
The first show is the famous opening night of the season on August 19, 1974, the one NOT starting with Also Sprach Zarathustra and nearly without the rushed oldies… in other words something completely different. One of my favourite shows only for that reason. It has been talked about so often, that I skip the content for this one, there are very good reviews of the show available...
Most of us have it on bootleg for over a decade, still I was looking forward to the official release, hoping for improvement. I have both the Fort Baxter release (If You Talk In Your Sleep) and the DAE version (… from Sunset Boulevard… to Paradise Road) and always preferred the FB release, it was less clear than the DAE but it didn't have the irritating reverb. This FTD is somewhere in between, it is obviously clearer than the FB and lacks the reverb. In other words: it is an improvement in my book. I bet it will stay one of the few shows that I'll play every now and then; and from now on this version.
The second show was "new" to me. This August 21 (M.S.) show is one of the better of the engagement (as far as I know them). Elvis is talkative, but not too… He certainly isn't as screwed as later in the season. He is good humoured, joking around and above all… really delivering some good performances (although I have to admit he even did that in the "weird" shows).
After the (again) standard opening with 2001, See See Rider and the I Got A Woman/ Amen routine (with JD Sumner as target for some jokes) Elvis brings the Olivia Newton-John hit If You Love Me, a song he obviously liked, just like that other ONT hit, Let Me Be There. A beautiful rendition of It's Midnight precedes Big Boss Man (less tight than on opening night) and a nice but not special rendition of Fever. After rushing through Love Me Tender and All Shook Up there is a pretty long dialogue before he brings a beautiful version of I'm Leavin'. Next up is the singing saw for Softly As I Leave You and is it rush hour again for Hound Dog. Two 70's classics You Gave Me A Mountain and a steaming Polk Salad Annie are followed by the introductions; including a one liner of Take These Chains From My Heart. Another highlight in this show is If You Talk In Your Sleep. While Why Me Lord is done by JD Elvis is obviously clowning around, since JD is totally unable to sing the second verse. Teddy Bear/ Don't Be Cruel gets the usual treatment and then it's time for the boring Hawaiian Wedding Song; nothing wrong with the rendition, but I just don't like the song... actually this version is somewhat funny, since Elvis raises his voice pretty suddenly near the end. Unfortunately The First Time Ever I Saw Your Face is not complete, but the beginning and the end are on it and it lasts over 2 minutes. Now it's time for that other ONT hit including the reprise, before the usual closing with Can't Help Falling In Love.
The sound quality of this second show is slightly better than the opening night. The balance between singers and music is still far from perfect, but you hear the instruments better. We knew that already from the Live in Las Vegas box, were some of the tracks were included.
Conclusion
Playing these CDs was certainly double fun, since the first is in better sound quality than previous outings and the second is an entertaining show that already made it twice in my player.

Tracklisting