Easy Come, Easy Go
CD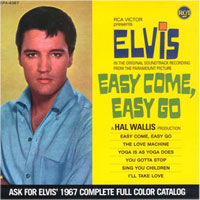 Released: 2007/07/09
by FTD
Classic Albums reissue of the "Easy Come Easy Go" soundtrack featuring the newly discovered original stereo mixes.
ElvisNews review
Upon receiving the three new FTDs (finally) today I decided to begin with the one I expected least of. I can directly say that I was not disappointed in my expectations.

Design

The original EP had a not too original design, like most of the (soundtrack) albums, singles and EPs it's just a posed shot of Elvis at one half and the title(s) and advertisement for the movie at the other half. In this particular case it was even done in very poor quality.
The booklet is very thin, which is no surprise since there isn't much to tell about one of Elvis' weakest movies (that is an accomplishment in itself). It only has a few songs for an Elvis movie, but all the usual information can be found in it. A few nice candid shots are the highlight of this release.

Content

The inspiring storyboard of the movie can be heard in Elvis' voice. He sounds completely lack less on all of the tracks. It is a kind of a pity, since the songs aren't too bad; disregarding the immortal "Yoga Is As Yoga Does".

The title track isn't by far the worst in my ears, but somehow it misses a singer who believes in it. The fact that we have it in stereo now can not cover that. I have to admit that there was a time, when I just had the Camden album with the same title it used to be one of my favourite Elvis tunes, but hey, I had only two or three albums back then. Or was it my – not even teenager – age?

"The Love Machine" and "You Gotta Stop" are the usual up tempo movie tunes, again lacking any inspiration. The same goes for the gospel like "Sing You Children", which I always felt to be out of place on the Camden LP "You'll Never Walk Alone" (yes, one of the other albums I had back then). "I'll Take Love" is a catchy tune, but not more than that. "She's A Machine" is a song I always liked, but as with the title track it just misses something.

The outtakes don't add anything to these performances. I love outtakes of good material, but in this case it is almost a punishment to sit them out. I managed to do that once, but won't go for it again.

The last track, the instrumental "Leave My Woman Alone", doesn't make me wish that Elvis did the lyrics…

Conclusion

Well, FTD started this series, and thus releases like this belong in it. Looking at the comments on this and other sites, there are people happy with it. Good for them, but for me it is nothing more than another cabinet filler.
Tracklisting