On Stage
CD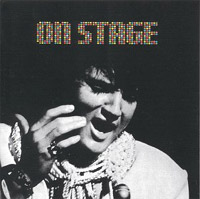 Released: 1970/06
by BMG
Live registration of Elvis' performances in February 1970.
ElvisNews review
lvis Presley began the 1970's with the release of his second live album. This was good news and bad news. The good news was On Stage: February 1970 was an energetic release of songs that were new to his catalogue at that time. Elvis did not recycle older material but took some chances and attacked the song choices with passion. The bad news was that he would become increasingly dependent upon live releases. They proved to be an easy way to issue an album and would gradually decline in quality as the seventies progressed.


The original 1970 release contained ten songs and none were throwaways. "See See Rider" is the first song and would be a concert opener for years. "Release Me" and "Sweet Caroline" both have vocals that surpass the originals by Engelbert Humperdinck and Neil Diamond. They are deep, mellow and sincere and present the 1970's pop Elvis at his best. Del Shannon's "Runaway" is moved from rock to an up-tempo pop interpretation. The final song on side one of the original LP release was his current worldwide hit, "The Wonder Of You." If there was one thing he could do at this point in his career it was sing his pop hits live just like the studio recordings.

Side two starts with "Polk Salad Annie." This song was close to Elvis' roots and while the spoken part may seem a little hokey 38 years later, the vocal is delivered with passion and sincerity. "Yesterday" is a rare Beatles cover for him. It was a competent delivery but is the weakest vocal on the album and pales next to Paul McCartney's original. "Proud Mary" may not rock like the Creedence Clearwater original or have the intense soul of Ike and Tina Turner, but it is the signature pop version of this classic song.

Elvis is smart enough not to try to copy anyone else but just makes the song uniquely his own. "Walk A Mile In My Shoes" is taken in a country direction. However, on the modern day CD releases, the song is slowed down at the end and morphs into "In The Ghetto" which was brilliant. He closes with the eternal pop song, "Let It Be Me," and swings on this song in a manner worthy of Frank Sinatra.

On Stage: February 1970, like most of Elvis' albums, has been released on CD with bonus tracks. "Long Tall Sally" really rocks and makes the listener wish he or she could have been in the audience for this performance. "Kentucky Rain" is just a superb vocal of this country-pop tune.

The production on this album was crystal clear. James Burton had also settled in as Elvis' lead guitarist and musical leader. His guitar runs are technically outstanding yet sensitive enough not to interfere with the vocals.

On Stage: February 1970 was an excellent live release by Elvis. It presents him at his best and the way he should be remembered.

Tracklisting