Let Yourself Go
CD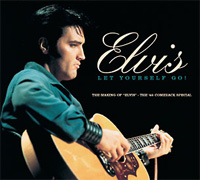 Released: 2006/10/01
by FTD
This CD combines previously unreleased outtakes from the sessions at Western Recorders, with the June 24 rehearsal at NBC (previously only available on bootleg). It includes the opening, the gospel sequence, the road sequence, Memories and If I Can Dream.
ElvisNews review
The latest outing on the FTD label is a silver disc full of material from the NBC Special. Is it something special?

Design

Well, let's be honest… even a male fan can't deny that with Elvis in June 1968 one can't go wrong. Only the amount of pictures of our man is something to complain about ;-). Again the contrast is pretty good, so this old man had no problems with reading the text on the cover.

Content

The CD starts with the production numbers recorded at Western Recorders, Burbank between June 20 and June 24. Those songs have always between my favorite material from the show, next to the stand-up shows. Especially the soul that the gospel segment has is beyond imagination. "Where Could I Go But To The Lord" from the "How Great Thou Art" album is good, but the version from the special is from another planet, while the power of the up-tempo part is the finishing touch of what is in my opinion the best music in TV history. So far the tendentious opinion I have… let's go to this particular disc.

I can be pretty short on that, the takes are all pretty close to what we know and the fun of hearing Elvis' breaking up, some studio conversations is well known to most of us too. In other words: the outtakes part meets my expectations completely.

The other part of the CD – The Rehearsals – was a pleasant surprise. I knew the material from bootlegs, but the way Kevan Budd restored it is - again - beyond imagination, especially when keeping the source in mind. As we all know these rehearsals were the base for the sit-down shows, but I like them much better – mainly because there is no irritating tambourine.

Conclusion

To me this is one of the best FTDs of the last couple of years, nothing really surprising, but at least The King that I fell – musically - in love with.
Tracklisting