The Complete Million Dollar Quartet
CD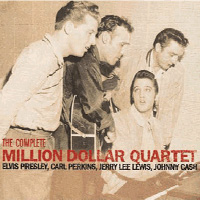 Released: 2006/09/19
by BMG
For the first time ever, the complete recorded session in the original sequence will be released on CD. This CD comes with 12 more minutes than any other previous release.
ElvisNews review
The new The Complete Million Dollar Quartet CD adds 12 minutes of previously unreleased music to RCA's original 67-minute version, which was released on CD in 1990, and finally puts the music in the original sequence. The biggest treat — and surprise — in the additional music: Elvis and the others jamming on instrumental versions of Jingle Bells and White Christmas.

The Complete Million Dollar Quartet (RCA/Sony)

The back story: Presley started with Sun Records in 1954, but didn't become a national sensation until releasing Heartbreak Hotel on RCA two years later. Perkins, whose Blue Suede Shoes had been a Top 10 hit, was in the Sun studio on Dec. 4, 1956, when Presley happened by. Cash, who had already released Folsom Prison Blues and I Walk the Line on Sun, also was on hand, along with Lewis, who was playing piano on the Perkins session.

Eager for publicity, Sun founder Sam Phillips phoned the Memphis Press-Scimitar newspaper, asking it to send a photographer to get a photo of Presley with his new stars. The photo appeared the next day, but it would be years before any of the music ever surfaced for rock fans to hear.

The first thing we learned from the bootlegs was that the 'Million Dollar Quartet' was really a $750,000 trio. The newspaper article accompanying the photo noted that Cash sang Blueberry Hill with the others, but neither Cash's voice nor Blueberry Hill has ever surfaced on albums drawn from the session. So it's generally assumed that Cash left before the session really got going and Phillips turned on a tape recorder.

It has been said that it's not really a quartet because Johnny Cash wasn't caught on tape but Johnny Cash states in his autobiography that he was there, he is singing, he is on the tape but because he had to sing in a different key to keep up with Elvis his voice is not recognised.

Still, 'Million Dollar Quartet' offers a wonderfully revealing glimpse into the musical instincts of these extraordinary rock figures. Taking turns on lead vocal, Presley, Perkins and Lewis went through some country tunes, some Chuck Berry numbers, even some Presley hits. But the focus was on gospel, including Just a Little Talk With Jesus.

What's new: The opening seven-plus minutes of this single disc was previously unreleased. When the tape starts, the musicians appear to just be jamming, but they soon go into an instrumental version of Love Me Tender, followed by Jingle Bells and White Christmas. They follow with another unreleased track: Elvis singing the bluesy Reconsider Baby, the Lowell Fulson song that Presley later recorded for RCA.

Through the entire album, there is a sense of experimentation and wonder that underscores just how young these rock 'n' roll giants were at the time. Presley and Lewis were both 21, with Perkins the old man of the group at 24.

Until someone discovers another tape in Shelby Singleton's Sun warehouse in Nashville, this version stands as the definitive one, and it is a priceless piece of American pop culture

Kevan Budd who did the audio restoration work on the releases; Elvis At Sun, Elvis Presley and Loving You has again been hard at work on the audio restoration of this tape.

One of the highlights of the tape is Elvis telling the others about seeing one of Wards Dominoes (in fact it was Jackie Wilson) imitating him in Las Vegas. Elvis then imitates Jackie Wilson imitating him! Elvis also sings a version of Paralized (a song he had already recorded) in the style of Wilson -- and it is much better than the real recording! How great to hear young Elvis with his contemporaries, just singing for the sake of jamming. You can't ask for more A truly fascinating historic document!
Tracklisting
A piece of history, this 3/4 of a million trio :)
Rating: 5 / 5
If you only were allowed to buy 1 CD in your lifetime this would be the one. Done by the right people in the right place at the right time in history. No other stars could ever duplicate this in such a perfect casual way.
Rating: 5 / 5
If I were allowed to buy just 1 cd in my lifetime this would be the one? I don't think so. I appreciate its historical significance and all, but this isn't something I'll listen to very often.
Rating: 4 / 5