I Found My Thrill
CD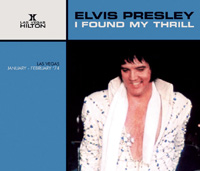 Released: 2006/06/01
by FTD
Soundboard of Elvis Presley's Las Vegas Dinner show from January 27, 1974 with additional bonus material from January 28, February 1, and other February shows.
ElvisNews review
The "normal" FTD of July 2006 is a live recording from Las Vegas, February 1974.

Design

Well, what can you make of an unhealthy looking Elvis? Not much. Gladly the cover is easily readable, something rare with FTD covers.

Content

The sound is like the cover art, not great. The fact that I stood up more than once to remove the dust from the needle says enough. Funny that after 20 years of CDs that automatic reaction is still present.

Elvis starts on automatic pilot too. He sounds bored and even at his favourite of the moment "Let Me Be There", the sparkle of what could be hardly lights. "You've Lost That Lovin' Feelin'" almost has it, but it doesn't come close to the versions of a couple of years earlier. The same goes for "Sweet Caroline", although the final has some power. "Love Me Tender" is boring as always, but I sat through it, hoping for a great rock'n'roll medley soon. I got the medley, although it wasn't half as good as the version in Memphis a couple of months later. "Fever" gets the usual treatment. I thought it was funny 15 years ago, but give me Michael Bublé on this song anytime now, at least live… with Elvis I stick to the unbeatable studio version. "Polk Salad Annie" isn't my thing in this up tempo style at all, and certainly not this try. "Spanish Eyes" itself is nice; unfortunately the singing saw Nielsen is very audible too. Highlight of the CD is the one liner of "The Most Beautiful Girl". "Help Me" and "Trilogy" are okay, but nothing special. About the same goes for the reprise of "Let Me Be There", it still lacks the power and enthusiasm a lot of other versions have. "Can't Help Falling In Love" has never been one of my favourites, so I don't even start about this throwaway version.

"The extra songs must be something special", I thought, especially since one of them gave the CD its name. Well, after the show it is not that hard to be something special… so that is a shot for open goal as we say in Holland. And indeed… "My Baby Left Me" is funny, with a more than nice guitar solo, "Trying To Get To You" has more power than any other song so far on this CD, "The First Time Ever I Saw Your Face" is far above the average of this CD too. The "I Found My Thrill"-medley (it is compiled of many bits and pieces recorded during February 1974) is funny… but in my thoughts not that great that a CD should be named after it.

Conclusion

Yawn, another cabinet filler. I bet I will play even "Clambake" more often.
Tracklisting