Big Boss Man
CD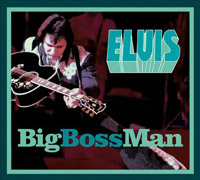 Released: 2005/04/01
by FTD
Soundboard recording of Elvis' March 1975 dinner show engagement at the Las Vegas Hilton.
ElvisNews review
Another soundboard on the FTD release, pushed a bit to the back because of the other two releases - "Rockin' Across Texas" and "Elvis Is Back" at the same time.

Design

Nostalgia rules with the good old 3D Elvis-logo. The pictures are nice, but unfortunately a bit grainy. All together a fitting cover with a nice 70's taste. The track information is as usual, including composers and band information.

Content

The investigators from the Elvis Is Still Active In Norway website did their work and discovered that this show is not the dinner show from March 30th as claimed on the cover, it is midnight show of March 28th 1975. The give-a-way was the introduction of Barbara Streisand who attended the show on March 28th. She met Elvis backstage after the show and offered him a role in "A Star Is Born". Apparently Ernst Jorgensen is aware of the mistake by now, and has admitted to the date on the cover being wrong.

Back to the show. The sound is a typical soundboard from Elvis' 12th season in Las Vegas (March 18th - April 1st 1975). The orchestra is hardly audible, as are the backing vocals.

During the opening theme we hear a guitar very upfront, giving this theme a different sound than the orchestral version we expected.

On the first few notes we were afraid Elvis was hardly audible too, but gladly he found his mike soon enough.

The show has no quick medleys but only full performances of interesting songs like the rare "Promised Land", "My Boy", "And I Love You So". For an Elvis show there is pretty much variety, with only a handful of oldies. One of the highlights is without any doubt "My Boy", during which Elvis really let go, another contender for the highlight of the CD is a beautiful rendition of "I'll Remember You". All together it is a very listenable live show, with a good mix of up tempo and ballads, most of them pretty new at the time.

Unfortunately the show is ruined by the introductions. Especially that David Briggs guy, who was playing electric piano according to the information, but it sounded more like a horny cat.

The last three tracks have been released before on Baxters "Profile vol. 2 CD 4" and "Green, Green Grass Of Home" and "You're The Reason I'm Living" were released before on the Las Vegas 4CD box.

Conclusion

Certainly one of the better soundboards released on the FTD label so far, at least show wise.
Tracklisting