Elvis Presley
CD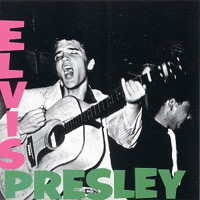 Released: 2005/01/11
by Bmg Heritage
Remastered edition of Elvis' self titled album using DSD technology.
ElvisNews review
The new year starts off good with the re-release of Elvis' first self titled album "Elvis Presley".

Design

This CD is a re-release in a better sound quality, so there are no changes to the design of this release. The only change we could find was the use of blue in stead of green for the frame around the images and the details on the tracks on this album. O.K. if we want to be complete, the liner notes also mention the Collectors Club and two websites, but that's it.

Content

Every fan knows the content of Elvis first RCA album by heart. After the birth of Rock and Roll at SUN, the music grew up at RCA. This milestone album captures that perfectly with Elvis' renditions of songs like "Blue Suede Shoes", "I Got A Woman" and "I'm Gonna Sit Right Down And Cry (Over You)".

The additional bonus tracks are the same as on the previous (re)release of this album. The producers reshuffled the standard and bonus track from the previous release of this album, putting the tracks back in the original order and dividing the original and bonus tracks.

The addition of Elvis first million seller "Heartbreak Hotel" really adds to paint the complete picture of his big bang appearance on the music scene and is a well known title for the casual buyer. The avid fan gets the album in it's original order with the additional songs at the end.

The most important news about this update is of course the audio quality. Well that is very good. Just as with other DSD remastered CD's Kevan Budd did a good job on these tracks, the recordings sound very fresh, although we must say we have difficulty hearing all the differences with the previous remastered CD. If BMG keeps this up we will have Elvis' complete, although slimmed down, catalogue in the best possible quality.

The CD leaves room for additional songs. With the third re-release of this album, the addition of some bonus tracks to fill the CD completely would be a nice gesture to the fan who buys this album once more.

Conclusion

This re-release keeps Elvis' catalogue up to date with today's audio standards for the casual buyer. The fan has to decide for him or herself if the copy of Elvis' first album they already own (several times) needs replacement again. Just like with software you have to decide to keep up-to-date with the latest features or wait for the next one. Because we will eventually (or hopefully?) get this album on a DVD-format (or new high resolution format) in the future after BMG's merger with Sony.
Tracklisting