It Happened At The World's Fair
CD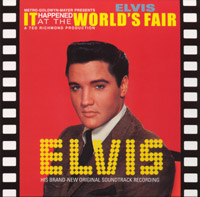 Released: 2003/04/15
by FTD
7" format cover, original back and front cover, 3 panel Gatefold sleeve and 8 page booklet with photos and memorabilia.
ElvisNews review
Right after "Girl Happy" and "Fun In Acapulco" it's now up to "It Happened At The World's Fair" to suffer our verdict, or is it not that harmful?

Design

What makes these soundtrack re-releases special, next to the bonus tracks, is the design of the package. To make this attractive FTD is re-releasing the original albums along the following lines:

1) 7" format cover (like a single or EP)
2) Original back and front cover
3) 3 panel Gatefold sleeve
4) 8 page booklet with photos and memorabilia
5) Original album with original album EQ
6) Additionally all previously released outtakes (if space permits)
7) Additionally previously unreleased outtakes (when available and space permits)

When we saw these words "for real" when we held them in our hands, we could only conclude Ernst Jorgensen and his team came through on their words. A great package with all mentioned above. There isn't much we can add to this.

Content

This soundtrack always gave us mixed feelings. Pretty fine songs like "Take Me To The Fair", "Beyond The Bend", "They Remind Me Too Much Of You" and the catchy "One Broken Heart For Sale" can't fight the terror of "How Would You Like To Be" or "Cotton Candy Land". And now we have outtakes in perfect quality of them too, if they don't put the kids asleep, they will do it with us. The only thing that helps is thinking of the (few) songs that are even worse ("Yoga Is As Yoga Does" and "Confidence" come to mind). Okay, curiosity for the few takes we didn't have in our collection helps even more. "Relax" and "Happy Ending" from the August sessions, and the acetate of "Take Me To The Fair" are nice to add to it.
Although it is certainly not our favorite soundtrack we understand that many fans do like this one. They should not hesitate and buy it, since the sound quality is very good.

Conclusion

Lovely package to add to any Elvis-collection. The fans that like the content of the soundtrack can enjoy it in better quality than before. "Cotton Candy Land" and "How Would You Like To Be" can be used to keep little kids quiet, or to frighten the older ones. There are some good songs too, so all in all it is a useful CD too.
Tracklisting