Elvis Chante Sid Tepper & Roy C. Bennett
CD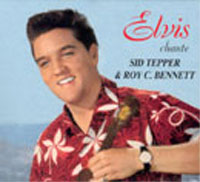 Released: 2001/07
by BMG
We can only conclude with the remark that this release should be in every Elvis-collection.
ElvisNews review
In 2000 the French fanclub "My Happiness" released a two CD set containing all songs by Mort Shuman and Doc Pomus that Elvis sang, "Elvis Chante Doc Pomus & Mort Shuman". It was a great package, with even some outtakes and fun original demos by the songwriters. Especially among collectors it was received very well, so a follow-up was almost demanded. In co-operation with BMG France "My Happiness" released a follow up CD.

"Elvis Chante Sid Tepper & Roy C. Bennett" is the title of this release. "Tepper and Bennet? Those guys responsible for a lot of mediocre moviesongs?" one might ask. Indeed, those guys are authors of the songs on this CD. To defend this choice the inlay text opens with placing Elvis' movies in the right context. The movies are what the audience wanted, yes, light-hearted entertainment, but nothing wrong with that. And Tepper and Bennett did what they were paid for: writing songs that fit perfectly within certain scripts. Considering that of the complete Elvis recording catalogue 42 songs were written by these two it's a good idea to put these together.

Design

This 2 CD set is a digi pack with 4 panels. Each panel has an original photo of Elvis. Upon opening the CD you'll find two great pictures, one from "King Creole" and the other one from "Flaming Star", behind those are the two CD's. CD one has the same print as the front, while the second CD has another picture from "Flaming Star". Behind the first CD you'll find 6 original French movieposters (strange titles!) and CD 2 hides 6 record covers. The other panels, with the very complete tracklistings, are decorated tastefully with pictures of Elvis in blue shades like the Norwegian promo "Elvis 2000". The CD's are picture discs. The only minor is the quality of the picture on the front of the booklet.

Content

Looking at the 42 Tepper/Bennett songs that Elvis recorded in more than 10 years it is hard to point out "really bad songs", especially when you keep the context of them in mind. On the other hand it is very easy to point out great tunes, "New Orleans", "G.I. Blues", "Shoppin' Around", "Once Is Enough" and "All That I Am" to name a handful randomly. After all we have to admit that this CD gives a lot of listening pleasure. Forty-two songs, only five of them were not recorded for a movie, chronologically ordered and completed with six (previously released) alternate takes by the greatest singer ever, can't be wrong. As an extra bonus we get 4 demos of songs submitted to Elvis, including one that was never recorded by him (Wife Number 99, submitted for Harum Scarum).

The bilingual (French and English) booklet has the same picture as CD 2 on the front. We can only say the booklet is very complete. Session information, release info, movie info, well known facts, little known facts and all are decorated with (French) movie posters. The booklet closes with some information about Sid Tepper and Roy Bennett and some additional notes. A tiny minor is that the fanclub logo isn't printed well, they sure deserved it for this labour of love.

Conclusion
We can only conclude with the remark that this release should be in every Elvis-collection.
Tracklisting
I have the similar "Pomus & Shuman" set which is just a total beauty - and now super-rare!I hope to find this similiarly illuminating set some day ...!
Rating: 5 / 5