Elvis Sings For Kids
CD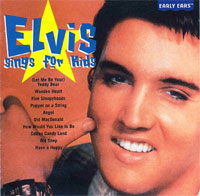 Released: 2002/01
by BMG SP
A release like this stands for what went wrong with the Elvis release concept by that Colonel and RCA. thinking that children perhaps have lesser ears for good quality music.
ElvisNews review
Usually the attention goes out to various decades of Elvis recording and performing career, the fifties, sixties or seventies. Besides those decades much attention is paid to his life performances, his gospel or country recordings or even his movie soundtracks, a vivid item for discussions among Elvis fans. But one part of his musical catalogue that doesn't get too much attention are his releases for kids (and grownups too!).

Design

The CD has a very "friendly" cover, a good choice looking at the audience. It contains some typography from previous releases of this album. But nothing special.

Content

This album contains various songs you can relate to kids. Most of them have a "Teddy Bear" but if they think about it the way Elvis does in "Loving You". This Mann / Lowe song has a very catchy tempo which makes up for the silly lyrics. In 1957 it became Elvis' eight No. 1 single. This song is Elvis biggest hit on this release and probably the favourite of the grownups buying it.

Elvis recorded a children's song pretty early in his career with "Wooden Heart (Muss I Denn)" for the movie "G.I. Blues" performing the song in a puppet-play. Outside the USA this song became one of Elvis biggest selling singles.

"Five Sleepy Heads" and "Big Boots" are two lullaby songs, they perfectly match the theme. RCA / BMG messed around with the last song. On every CD-release for RCA Special Products (see "Elvis A Legendary Performer", "Speedway / Clambake") at that time

RCA released not the complete original album on CD and so they kept the alternate take of "Big Boots" in their vaults. But on some releases they used the alternate take 4 or the song isn't mentioned on the cover although it is on the album. Like on the latest "Elvis Sings For Kids". On the track listing this song is forgotten, so it's a kind of "hidden track".

Like all songs on this release except "Old Shep", "Puppet On A String" was recorded for a movie soundtrack. This one in 1964 for the "Girl happy" soundtrack.

"Angel" was also recorded for a movie, "Follow that Dream" and was, together with the title track, one of the better recordings during the July 2 1961 recording session.

Recording "Old McDonald" for the 'Double Trouble" soundtrack, the circumstances weren't very good for Elvis. There wasn't enough good material and the session was rescheduled to a soundstage after Elvis showed up late for the original session. Being forced to record "Old MacDonald" was the final indignity for Elvis according to Ernst Jorgensen in his "Al Life In Music". Elvis walked out of the session, leaving the movie company with an incomplete seventh take as the master.

For the soundtrack of "It Happened At The World's Fair" Elvis recorded "How Would You Like To Be". After taking his time to record two Don Roberson songs he progressed at reasonable speed through the next three numbers for this session. "How Would You Like To Be" was among them, he laughed dismissively while lighting a cigarillo, at its absurdly arrangement. For the 1968 Comeback Special this song and the next were considered shortly for showcasing Elvis' movie period, but fortunately they quickly saw how ridiculous this was taking in mind what they were trying to achieve with the special.

"Cotton Candy Land" has one of the child's favourite fantasies for a theme, but let's forget about this song quickly.

"Old Shep" has been a song that was with Elvis from the beginning of his career. In 1945, the ten-year-old Elvis stands on a chair at a microphone and sings "Old Shep" in a youth talent contest at the Mississippi-Alabama Fair and Dairy Show, held in Tupelo. The talent show is broadcast over WELO Radio. Second prize is $5.00 and free admission to all the rides at the fair according to the "Official Biography" on the Graceland site.

The last song on this release "Have A Happy" was recorded for the "Change Of Habit" soundtrack in 1969, Elvis' last film role. It stands an example of what went wrong with the Elvis recording concept.

Conclusion

The conclusion, these releases contain two classics and a lot of sound track left-overs. The first children's release was "Elvis Sings For Children (and grownups too!)" in 1978 as RCA's contribution to the first anniversary of Elvis' death.

A release like this stands for what went wrong with the Elvis release concept by that Colonel and RCA. thinking that children perhaps have lesser ears for good quality music, and Elvis being worth more death than alive (in the year after his passing he sold more records than in any of the last ten years of his life), RCA probably thought they could get away with this release.

Facts

During the years after this concept was re-released several times. Some facts and covers on this releases contributed by Peter Bauman.

"Elvis Sings For Children (And Grownups Too!)" - RCA Victor CPL1-2901 - released July 1, 1978 in the USA - Gatefold cover with a "postcard" and released released August 1978 (test pressing: July 19, 1978) in Germany - Gatefold cover without the "postcard" The German (maybe also the US) copyright information shows two faults: Five Sleepyheads (sic) and usually Elvis records were filed under "Pop" but RCA Germany (and USA) filed it under 'Classic".


Tracklisting