Silver Screen Stereo
CD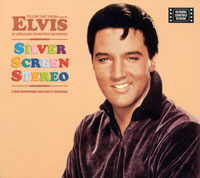 Released: 2001/11/05
by FTD
Another FTD release focusing on the movie years.
ElvisNews review
Since one of our regular contributors was relatively pretty quick with his review, we took an extra week to listen and make up our opinion. 
First of all, the CD is at the opposite of the usual place, in other words at the left when you open the slipcase. Probably this is a mistake by the manufacturer, for which BMG might have had a reduction. Gladly they did show that in their price for the fans (not). For the design part you can take a look at all previous FTD-reviews, since it is the same as always: minimal effort has been spent, but still the result is okay. The image of Elvis is a good one, a real "movie-image" which matches the content.
The part where FTD almost never let us down (when we forget about "Too Much Monkey Business"), the content, is more important. This time we get more studio outtakes, more specific, outtakes of those great movie songs. This remark is of course a bit ironical, but as a matter of fact especially this CD shows that Elvis' movie music wasn't always that bad. We all know that the pre army-years had decent movies, with good to very good music. Having "Loving You", "Jailhouse Rock" and "Don't Leave Me Now" in stereo is great of course, and they sure belong to the highlights of the set. "Tonight Is So Right For Love" gives us a look behind the scene, very funny. More "G.I. Blues" with "Frankfort Special", "Doin' The Best I Can" and "Shoppin' Around" (one of the better Elvis recordings of the early 60's anyway) are very enjoyable. "Summer Kisses, Winter Tears" and "In My Way" are too good to be just movie songs. The classic "Hawaiian Wedding Song" and "Island Of Love" are taken from Elvis' most successful movie (commercially), "Blue Hawaii" (or: "The End Of What Could Have Been A Good Acting Career").  More lighthearted fun and beautiful ballads get in the spotlight: "Angel", "I Got Lucky", "Home Is Where The Heart Is" and "Riding The Rainbow" are all above par. Some like it, some hate it, the Spanish flavour in "Fun In Acapulco". We happen to like it, so "The Bullfighter Was A Lady" and "I Think I'm Gonna Like It Here" were welcomed by us, and our troubles disappeared like bubbles in the air. But the highlights are yet to come!  The first take of "Viva Las Vegas" is pretty different from the final cut. It's a pity we don't know the exact reason for the change, which worked out great, since the remarks between take 1 and take 2 on this CD don't make that clear. Some people have bought the Ann-Margret CD of this summer for nothing, since the outtakes of "The Lady Loves Me" and "You're The Boss" show up next. Another beautiful outtake, this time of "Today, Tomorrow And Forever" precedes another highlight: the first 3 takes of "C'mon Everybody", marvelous is all we can say! The Hillbilly overdub of Kissin' Cousins couldn't spoil the CD anymore; as a matter of fact it is a kind of fun. "There's Too Much World To See" was one of two moments we almost reached for the skip-button, but going too fast to "Clambake" prevented us from doing it. This time we really were glad we didn't use that button, because the reprise of "Clambake" is really funny. Almost missed it, but gladly we controlled ourselves. This fantastic FTD release ends with another beautiful ballad, "Almost". Together with the first FTD movie songs release, "Out In Hollywood" we have a good overview of some of Elvis' better soundtrack songs. This "Out In Hollywood" is much stronger than it's predecessor though. The only conclusion can be that indeed Elvis' movie music wasn't that bad all the time. Ernst, keep them coming like this!
Tracklisting