The Jungle Room Sessions
CD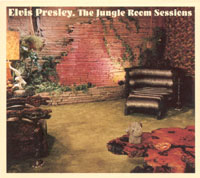 Released: 2000
by FTD
Concluding we can only say we were pleasantly surprised by this CD. It is less worse (read: depressive) than we feared.
ElvisNews review
Without any doubt this is the most wanted FTD release so far. The CD contains many unreleased outtakes from Elvis' last "studio" sessions. Well, it wasn't in a real studio since Elvis obviously lost interest in recording RCA had to move a mobile studio to Graceland. "If Moses doesn't want to come to the mountain, bring the mountain to Moses" they must have thought. So let's see if this release meets the expectations ...

The title and coverpicture are obvious (and not too original). We can't blame RCA for Elvis' poor taste regarding decoration, but we can blame the RCA design department. In such a room we would become pretty depressive. The coloursetting of the digipack is softening the screaming picture of the Jungle Room.

As usual on FTD releases the information on these sessions is pretty poor. We do find a list of the backing vocalists, but the musicians are ...? And okay, we have the dates, but why isn't all take information displayed correctly?

But a product like this must not be judged by the jacket, it's the content that counts, so let's do a fly-by of the tracks...

Bitter They Are, Harder They Fall: Starting with some familiar Elvis humor we get a very good start of the song broken up by a ringing phone. While the lyrics aren't really cheering you up, the final version we hear Elvis does. He gives a very good performance, holding some very long notes.
She Thinks I Still Care: A very different start of the song, with the backgroundvocals starting. Obviously a song Elvis really liked, he really puts something in it, in opposition to some of the songs of these sessions that sound dull.
The Last Farewell: You like this song or you don't. At least the clear sound makes it bearable.
Solitaire: Again very clear sound, but Elvis is cooling off, as if he is unsure on the song.
I'll Never Fall in Love Again: One of the weaker performances. Elvis' timing is just not it, his voices trembles sometimes. Some parts he is really giving it, but overall this song needs much more power, which he had before.
Moody Blue: The first try breaks up in the "Italian version", because Elvis lost the words. Some adjectives are not suited for minors. The song itself is certainly one of the better of this session. Just a little polishing needed, but for us fans it is a delight to have this one in this quality.
For the Heart: Another of the better songs, Elvis not really in it yet, but you can hear it coming, and it is not as good as the take on Platinum.
Hurt: It really sounds like E hurts his voice with the first start. Not strange they used another take for the original release.
Danny Boy: A beautiful song, Elvis sings it modestly, but at the part he needed some power he didn't have it exactly.
Never Again: It would be, when not too lazy to press "skip".
Love Coming Down: Another cheerful song and again E doesn't sound too strong on some parts.
Blue Eyes Crying in the Rain: One of Elvis' favourite songs at the time, gladly he sings it only once in this version. No irritating echo here, but overall a nice performance which shows he still had it when he really wanted.
It's Easy For You: "I get carried away very easily, emotional song". And he does, in one of the strongest performances on this CD. It only needed a little polishing, but what did they (RCA) do with the original? Making Elvis sound as if he was singing through a telephone! Yuck, but this version gives hope for the upcoming re-release of Moody Blue. Will BMG be able to put a decent version of this beauty on that CD?
Way Down: We already had this one on Platinum - A Life in Music. Good enough for a commercial release, and indeed it is one of the strongest songs from these sessions.
Pledging My Love: Elvis doesn't get enough of it. A very long version. Did he really like it or were they just hoping they could use some parts of it?
He'll Have to Go: Sounds very familiar. But what can you expect from a rough-mix master?
Fire Down Below: Very promising track, unfortunately Elvis never sang the song. Because of this it doesn't really speak to our imagination. Another "what if", because as stated before the music is very promising. At the ending after a pretty long pause you get an "unexpected" finale of "America the Beautiful".

Concluding we can only say we were pleasantly surprised by this CD. It is less worse (read: depressive) than we feared. In opposition, we got over 70 minutes, okay maybe except two tracks, pretty good music. Sounding very clear overall and giving us hope for the upcoming "redone" version of Moody Blue. Okay, Elvis isn't at his best most of the time, but Elvis at "half throttle" is still much better than a lot of other artists.


Tracklisting