Such A Night In Pearl Harbor
CD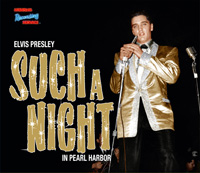 Released: 2012/03
by MRS
Book/CD of Elvis' legendary Pearl Harbor show on March 25, 19761.
ElvisNews review
Memphis Recording Service's latest project is a re-release of Elvis' legendary show in Hawaii on March 25th, 1961. Is it an improvement over previous outings of the show?
Design
As we are used to by now, the production is beautiful. Tons of newspaper clippings, memorabilia and pictures fill the 92 pages (not counting the advertisements for other MRS products). All of this is presented in a very attractive way.
Content
The booklet starts with background information on the USS Arizona and the Japanese attack on Pearl Harbor. Chronologically there is attention for the planning, Elvis' arrival, the press conference and of course the show itself. Last but not least the monument itself and Elvis' visit to it fill a chapter. Everything is well documented by newspaper clippings and first hand stories.
I guess all of us know the show from previous outings. In my ears MRS really made an improvement to it. Still it's not of a quality that you play for everyone's listening pleasure… a pity since this is one of the, if not the best show Elvis ever gave. Material like this makes me realize once again why I put all this time in this website and enjoy the man's music so much! The addition of the radio show broadcasted for promotion only makes it more complete.
Conclusion
Such A Night In Pearl Harbor is a must for every fan! The sound quality has really improved and the package is outstanding!
Tracklisting
What an enormous delight this package is! I have the Silver Anniversary box set which also contains the Hawaii '61 show, but this latest MRS release is tremendous value. Not only do you get the original show—the longest given by Presley at that point in his seven year career (and a corker to boot!)—but the accompanying book is full of interesting titbits and many rare pictures. It provides much needed context, not only documenting Presley's arrival in Hawaii and his performance there, but also detailing the sinking of the USS Arizona some twenty years earlier. This was something I found sorely lacking in the Silver box. The sound on this disc is warm, and as much as can be expected from the original recording. Elvis himself brims with energy, treating the enthusiastic throng to a multitude of hits, covering gospel (Swing Down Sweet Chariot), blues (Reconsider Baby), rock 'n' roll (One Night, Hound Dog), pop (All Shook Up), doo-wop (A Fool Such As I), rockabilly (That's All Right) and ballads (Love Me, Are You Lonesome Tonight). And the icing on the cake is a very rare radio show, broadcast one week prior to the concert and featuring a handful of Elvis' gospel cuts interspersed with interviews with top military brass and organisers for the fundraiser. This show singlehandedly confutes John Lennon's assertion that Elvis died when he joined the army. A must-have!
Rating: 5 / 5
~ A 5-star CD for sure! The improved sound quality is the best there is for this historic 1961 concert.