Clambake
CD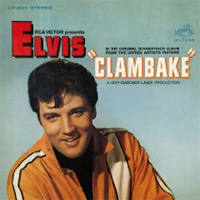 Released: 2010/01/26
by Sony Special Products
Re-release of original soundtrack.
Tracklisting
I recently bought this on Amazon.com for around $5.00. Why would I buy this again when I have it with the Kissin' Cousins soundtrack on a double features CD from years ago? I guess there are a lot more fish in the ocean to be had. Unbelievable.
1 star? The bonus songs raise it to a three. Why buy it again? Mastering by Vic Anisini.
Rating: 3 / 5
OK, this was one of three soundtracks I received yesterday and although I have this on a Double Features CD, I have to change my rating from 1 to 5 stars! This entire album with the 5 additional non-soundtrack cuts really comes across as a complete package for me fromr the 1st to the last song and the re-mastering is 100% improved! The Clambake cuts have worn on me as I've come to really like them, even the pedestrian Hey, Hey, Hey and Confidence. My favorite A House That Has Everything is now an all time classic to my ears. I guess time and my ears have changed after-all. I think this album would have sold more if it wasn't sold as a soundtrack! There's just too much good stuff here!