Elvis Country (I'm 10,000 Years Old)
CD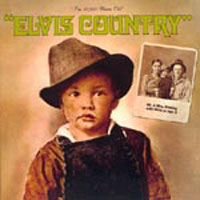 Released: 2008/10
by FTD
This 2CD re-issue of "Elvis Country" Classic Album comes in a 7" deluxe package and features 40 tracks, including 11 new "takes" and some undubbed masters.
ElvisNews review
Another Classic (with a capital) Elvis album is released in the FTD series. Does it meet the expectations?
Design
As usual the design of this FTD series is top notch. For the booklet FTD leaned on the card that was with the original album, the famous family shot. Nearly all photos are shots of a (very) young Elvis.
The photos are decoration for the detailed information on the release, including session notes and even a (childish) drawing of the back cover design.
Content
What can I say on those tracks that are so well known? It has always been among my favourites. The original album has its original presentation, including the snippets of I Was Born About 10,000 Years Ago in between the songs. Something I thought it was fun when I just had the album, but soon found it to be irritating… especially when I wanted to make my own compilation on tape or when I wanted to play a song in a radio show I was involved in during the early 80s.
The 12 previously unreleased takes are (of course) all very close to the known ones, so not much new stuff there either, or it must be the in between takes banter that is sometimes pretty long.
The very positive side of this release is the sound quality. It is haunting beautiful… I Really Don't Want To Know caught me as much as the first time I heard it… goose bumps all over! The horns in the rough mix version of Whole Lotta Shakin' really overwhelm you, even if you are prepared (when e.g. you have one of my favourite bootlegs). Those two and the undubbed June 7 masters are my personal highlights, but they are not far ahead of the remaining tracks. In other words, this is one of my personal toppers in the long FTD series.
Conclusion
I can understand all complaints I have seen lately. This album should be available in the "normal" market for a "normal" price. I fully agree with them, but it does not take away the fact that I enjoyed these two discs from the first to the last minute… and will enjoy them over and over again.

Tracklisting