New York RCA Studio 1: The Complete Sessions
CD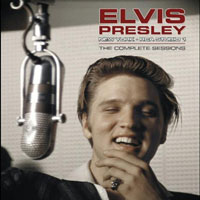 Released: 2007/11/12
by Memphis Recording Service
The complete sessions at RCA's New York Studio 1 CD comes with a book with a collection of rare and unpublished photographs of Elvis at the New York Sessions by famous photographer Alfred Wertheimer and a free bonus DVD‐ AUDIO 5.1 / Dolby Digital. The DVD‐A version contains the same tracks as the CD and is remastered in high quality 24 bit 96 kHz sound and is accompaniedby rare photographs.
ElvisNews review
Once again I find myself reviewing a Memphis Recording Service release and what another beauty they've created for the dedicated Elvis fan!

The package:

First off the packaging is top notch and very much what we have come to expect from the MRS, it's well designed, good looking, well printed and presented and more than up to the usual high standard graphically.

The book:

It stretches to 63 pages if you don't count the ads in the back and it does hold a couple of interesting shots (not too many) that are new to my eyes but this is only to be expected ... after all where haven't you seen a Alfred Wertheimer Elvis picture before...?
You can find them in many a book and magazine (if you've been collecting a long time as have I) right down to the EPE souvenir that that they sell.

There is more to the book than just the photos though, look closely at the detail within and you will see some interesting RCA log sheets from 1956 that were re-issued in 1965 when the tracks appeared on the re-issued albums back in 65. Nice to see (to me) for the first time too even though Keith Flynn has had them on his website for a while now... sorry I missed them Keith.

The text is written by a couple of folks listed as MMC and RM and covers the session ground accordingly and is pretty good reading if a little matter of fact. It's also good to see those other well known names tied in with this project too: co-produced by Joe Tunzi and additional research by John Michael Heath, Keith Flynn and Jamie Aaron Kelley, by fans for the fans.

The book has a harder glossy cover than the previous MRS release Tupelo's Own and this is a good thing in my opinion, it feels more substantial.

Chapters in the book are as follows:

Elvis RCA NY
The First Meeting & Publicity Photographs

RCA Studio 1 NY
The First Recording Session - 30/31st January 1956

RCA Studio 1 NY
The Second Recording Session - 3rd February 1956

RCA Studio 1 NY
The Final Recording Session - 2nd July 1956

Primarily I was looking forward to the book more than the audio but boy, was I to be more than pleasantly surprised.

Disc:

In my opinion the work Kevan Budd did on the 56 tracks is awesome but he wanted to get back to a less compressed sound and to what Elvis himself heard live in the studio and he mastered that 110% on his FTD "Elvis Presley" release.

If I want to rock n roll loud and proud then I would play the New York sessions CD first every time as it jumps out at you and hits you hard...very punchy and up front to my ears but it's all a matter of what you (and no one else) prefer.

The CD is remastered and restored by Real Bouwman and the DVD audio engineer is Mick Ritchie

As an example 'One Sided Love Affair' (it has the count in too) sounds the best to me than on any other release I own and I've compared it to the following.

Original RCD CD release of Elvis Presley
The Teen-age Rage import
Gold US CD release of Elvis Presley
The 50's masters box set
Re-issued BMG release of Elvis Presley
Elvis 56
Elvis 56 DSD re-master
Re-issued Sony/BMG release of Elvis Presley with extra tracks (Budd version)
FTD release of Elvis Presley

I have to say that the audio is very crisp and clear and sounds like it's on fire! The CD sounds great (better than any other MRS release) but I have yet to savor the DVD Audio disc on a 5.1 audio system.

The DVD has a selection of Elvis shots on screen for each track along with the song title and is nicely done again. The images are from the New York sessions and an Elvis photo shoot at the New York studios on the 1st Dec 1955. Being honest I'm not one for 5.1 from mono but if the added ambience is not overdone it can be a pleasant listening experience nonetheless.

In finishing I have to say I still love my Elvis Presley FTD release with the work done by Kevan Budd but I love this too (in a different way) and there's nothing wrong with that.

You pay your money and take your choice but to be honest I would say you need The New York Sessions, too, please don't deprive yourself.
Tracklisting