Girls! Girls! Girls!
CD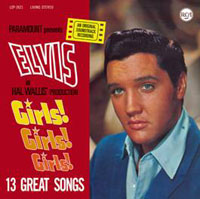 Released: 2007/11/12
by FTD
Follow That Dream collectors edition of the Girls Girls Girls soundtrack album with previously unreleased bonus material. Packaged in deluxe, fold-out format (7" EP size) with booklet featuring photos and memorabilia. Vic Anesini and Sebastian Jeansson have remastered the material. Even though the original tapes were lost, this remastering promises that these recordings sound better than ever.
ElvisNews review
Although I can't handle 3 of them at the same time anymore, the title is one of the most appealing of Elvis' movies, thus soundtracks.

Design

As with all "classic album" releases this 7" cover art has been worked out very nicely. The only minor is that the booklet is very thin.

Content

When I bought the original album some 30 years ago, it turned out to be one of my favourites at that moment. Most of the songs were catchy pop tunes and an album with "Return to Sender" on it couldn't be wrong in my ears. The title song is one of the better post army title tracks, while "Thanks to the Rolling Sea" and the calypso-like "Song of the Shrimp" were different from what I was used to at the moment.

In other words, I used to be happy with it and I must say I still don't have problems to hear the original album every now and then. Okay, my taste moved on and it is certainly not among my favourite albums, but I can still listen to it.

This FTD release is something completely different. The first 13 tracks are okay, but in the remaining 18 tracks one of the few Elvis songs I really can't stand, "Mama", is available in 7 of them. The worst thing is that they are not in a row, so either I have to pre-program my player or I have to use skip quite often. I did that once and that's more than enough for me. If I have the desire to listen to the soundtrack in the future, I'll stick to my good old vinyl version of it. Since there are no outtakes of the title track and "Return to Sender", there is not a real reason to play this version anyway.

The tracks that I did play sounded good and I didn't notice the usual mistakes on first (and last) listen.

Conclusion

"Mama! Mama! Mama!" would have been a nice title for the reissue, which is not more than a cabinet filler for me.

You can order this CD from ElvisMatters.
Tracklisting