A Canadian Tribute
CD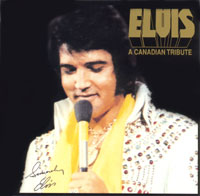 Released: 1999
by BMG
Limited re-issue of a collection with "Canadian links".
ElvisNews review
We received our copy of the CD re-release of this Canadian Tribute to Elvis from 1978, well know for its yellow vinyl. What can we say about this limited edition (10,000) re-release on CD.

The CD is bigger and better. It contains four more tracks of songs from Canadian authors recorded by Elvis than the original LP, there are more / completer interviews and there are more pictures in the inlay than the original.
The quality of the audio is a bit soft, it's not what we got to expect lately from RCA. The music itself is not particularly interesting, all versions have been released before.

More interesting are the more complete interviews on this CD. We hear Elvis speak open and candidly about a lot of things. Parts of the interviews were available on import CD's, but not this complete. Summarizing the interview we hear Elvis talk about subjects like: new movies, Hal Wallis, acting, Jordanaires, rehearsals, dealing with the tension before a show and relaxing after a show, going out in public, being attacked, doing movies, TV or touring, his parents, interviews/ journalists and their questions about his personal life, Anita Wood, the start of his career, the future of Rock and Roll, being a singer or movie star, his favorite music, reaction of the audience on his movements, DJ's, doing ballads, doing a gospel album, Pat Boon, marriage, the army, being in fistfights, having (8) cars and a home, his income, teenagers and their habits/morals, and so on. All from a 1950's view. 
A little detail, the back cover mentions the track "(Let Me Be Your) Teddy" a new track? No they forgot the word "Bear" in the title. 

Should you get this CD? When you're a collector: yes, there are only 10,000 CD's available. When you're only into Elvis music: no, you probably have everything. When you're looking for information in the man behind the music: most definitely, you get some great personal insights.
Tracklisting
This is an expanded version of the vinyl album that came out shortly after his death. I've always had a soft spot for the original album. CD version has more too enjoy. Well worth the investment if you can find it.
Rating: 4 / 5