Can't Help Falling In Love
CD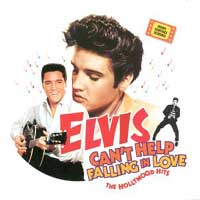 Released: 1999/09
by BMG
ElvisNews review
Of course there are many different kind of Elvis fans. We have the all-round ones, the 50's fans, the Vegas-ones, the gospel lovers and the movie freaks. Most fans do like the Hollywood hits and we must keep in mind that during the 60's, when you wanted to see Elvis, the movies were your only chance. Nowadays it surprises me that especially young girls get to know Elvis through his movies, which can be watched often on television. For real young or new fans this compilation CD could be a nice start to collect Elvis movie music. The 22 tracks are nicely chosen, but of course it's only a start.

The CD begins with Jailhouse rock, which is the ultimate way to get the feeling of rock 'n roll. It has become a classic song during the years. The guitars, the drums mix perfectly with the great young voice of the king. The tune invites you to rock yourself. The touching song Loving You will sure get a young girl crying. Believe me, I know…..I did, a long time ago losing my first boy friend.


Wow….Hard Headed Woman is a song for the boys. This one swings from the start to the end. The rhythm is catching and the lyrics crystal clear. Let Me Be Your Teddy Bear: who doesn't know this song? The tempo is fine and the words easy enough to sing along. There is no girl who can resist this! Ah…the guitar starts playing King Creole, a real favourite of mine. Elvis' voice low enough at the beginning to get a nice difference towards the end of the song. The music on this one is so right, so swinging, you sure want to see the movie too.


Treat Me Nice, real good piano playing, perfect rhythm and of course Elvis in a very natural way. Love me Tender, a real love ballad! Even though I heard the song a million times before I saw the movie…it struck me intensively the first time I did see him sing this song on the screen. The simplicity of the song is beautiful! Shoppin' Around, not too well known to the younger fans maybe, has a nice tempo again and Elvis' voice is a pleasure to listen to. Ah, Wooden Heart is next. Personally I dislike this song so much, so I skip this one. Watching G.I. Blues is one thing, but to listen to this on CD is another. Sorry: next one!


Rock-A Hula Baby: that's better. The rhythm is great. The guitar playing perfect and Elvis outstanding as always. Follow That Dream! This is my song! Especially the right one to listen to in my car driving the highways. Elvis sounds so hopeful, so joyful I really love this tune.


King Of The Whole Wide World goes on in the same way. Nice song, easy to listen too and with plenty of saxes in it, which I love. Beautiful, Such An Easy Question follows…..this song is the proof that the time in Hollywood still gave us real beauty's of songs. Listen carefully please, Elvis' voice is irresistible here. Return To Sender is next. A real easy song. You will be able to sing along real soon. One Broken Heart For Sale, although the lyrics are not mend to be joyful the song invites you to drum your fingers. This is the way to get over puppy-love. Ah real swinging, Bossa Nova Baby follows from Fun In Acapulco. Personally I love this movie and not in the least thanks to this song. Viva Las Vegas, also a real beauty. Elvis is on his best singing this tempo and even the throat sound, which I adore, can be heard sometimes. Kissin' Cousins, maybe not the most ultimate movie song, but still the song is catching enough. Roustabout, perfect to listen to in your car again. I love this song!


Puppet On A String, I can't find some information about the piano player on this one in the booklet, but I am sure it is Floyd Cramer. His playing with Elvis' voice is a jewel to listen to! With a nice guitar Clean Up Your Own Backyard starts. I sure would have liked to hear Elvis do this song live on stage! This one sure got stage power. How easy but strong and beautiful his voice sounds here! The last one is no surprise: Can't Help Falling In Love, the title song, I think I was only 11 years old hearing this one for the first time and it stole my heart immediately. I really really love this song and it is a perfect end to this almost perfect compilation CD.

But then again, if you want to hear more from The Hollywood Period, like beauties as You Don't Know Me, They Remind Me Too Much Of You, there are the Double Features ones to buy. However for new and young fans this is a real nice start and to all the girls ... listen to Elvis and I am sure your heartaches will be over in no time!




Tracklisting