Hound Dog
CD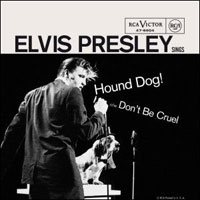 Released: 2007/08/27
by BMG
Each numbered CD will be released in 'mini-vinyl' replica card sleeves with an outer and inner bag. The outer bag will feature the original U.S. picture sleeve artwork, while the inner bag will replicate a generic U.K. RCA single from the time of the original U.K. release. Rather than have the standard silver finish on the 'playing' side of the disc, each CD rear will have a black finish, again to replicate a miniaturised version and the look of the original vinyl release.
ElvisNews review
The fourth single in the UK reissue series of eighteen classic singles that never made it to the #1 spot.

Design

The numbered CD comes as a 'mini-vinyl' replica card sleeves with an outer and inner bag. The outer bag features Elvis singing Hound Dog on the Steve Allen Show. Although a nice picture, Elvis himself felt ashamed singing this song to a dog on national TV. The inner bag replicates a generic U.K. RCA single from the time of the original U.K. release.

As for the vinyl, that looks like the real stuff too. Only these don't have the UK cover art outer sleeve.


Content

Elvis probably picked up this tune from the version by blues singer Big Mama Thornton's. Her hit from Jerry Leiber and Mike Stoller's composition, which she recorded in 1952, was her biggest hit and topped the Billboard rhythm and blues charts for seven weeks.

The track became a real rock and roll standard when Elvis did his up-beat make-over of this song and made it "his song". The fans loved it and he had to include it in his shows until the very end.

This is what Wikipedia says about the song:

Big Mama Thornton gave this account of how the original was created to Ralph Gleason. "They were just a couple of kids, and they had this song written on the back of a paper bag." She added a few interjections of her own, played around with the rhythm (some of the choruses have thirteen rather than twelve bars), and had the band bark and howl like hound dogs at the end of the song. In fact, she interacts constantly in a call and response fashion during a one minute long guitar "solo" by Pete Lewis . Her vocals include lines such as: "Aw, listen to that ole hound dog howl.. OOOOoooow", "Now wag your tail", Aw, get it, get it, get it". Thornton's version is a slow, powerful, country blues.

Elvis Presley's first, apparently not very successful, appearance in Las Vegas, as an "extra added attraction", was in the Venus Room of the New Frontier from April 23 through May 6, 1956. Freddie Bell and the Bellboys were the hot act in town, and Elvis went to the Sands to take in their show. Elvis not only enjoyed the show, but also loved their reworking of 'Hound Dog' and asked Freddie if he had any objections to him recording his own version. By May 16 Elvis had added "Hound Dog" to his live performances.

Drummer D.J. Fontana put it this way. "We took that from a band we saw in Vegas, Freddie Bell and the Bellboys. They were doing the song kinda like that. We went out there every night to watch them. He'd say: "Let's go watch that band. It's a good band! That's where he heard "Hound Dog", and shortly thereafter he said: "Let's try that song"."

Presley first performed "Hound Dog" to a nation wide television audience on The Milton Berle Show on June 5, 1956, his second appearance with Berle. This performance included the upbeat version that would later be recorded, followed by a slow, bluesy rendering. Presley's movements were energetic and exaggerated. The reactions of young women in the studio audience were enthusiastic, as shown as part of the broadcast. Berle's network received letters of protest, and the various self appointed guardians of public morality attacked Elvis in the press.
Elvis next appeared on national television singing "Hound Dog" on the July 1 Steve Allen Show. Steve Allen wrote: "When I booked Elvis, I naturally had no interest in just presenting him vaudeville-style and letting him do his spot as he might in concert. Instead we worked him into the comedy fabric of our program...We certainly didn't inhibit Elvis' then-notorious pelvic gyrations, but I think the fact that he had on formal evening attire made him, purely on his own, slightly alter his presentation." [14] Presley wore a tuxedo and sang an abbreviated version of Hound Dog to an actual top hat-wearing basset hound.

The song was recorded for RCA Victor by Elvis' regular band of Scotty Moore on lead guitar (with Elvis usually providing rhythm guitar), Bill Black on bass, D.J. Fontana on drums and backing vocals from the Jordanaires. Presley recorded this version along with "Don't Be Cruel" and "Any Way You Want Me" on July 2, 1956 at RCA's New York City studio. The producing credit was given to RCA's Steve Sholes, however the studio recordings reveal that Elvis produced the songs himself, which is verified by the band members. Presley insisted on getting the song exactly the way he wanted it, recording 30 takes of the song before finally settling on take number 28.

"Don't Be Cruel" was the A-side of the "Hound Dog" single that was released on July 13, 1956. Both sides of the record topped the charts independently, a rare feat. The single also topped all three extant Billboard charts: pop, country & western, and rhythm & blues, the first record in history to do so.

On September 9, with the song topping the US charts, Presley performed an abbreviated version of "Hound Dog" on the Ed Sullivan Show hosted by Charles Laughton. After performing "Ready Teddy", he introduced the song with the following statement, "Friends, as a great philosopher once said..." Elvis's first time on the Sullivan show was an event that drew some 60 million TV viewers. During his second Sullivan Show appearance, October 28, he introduced the song thusly (although unable to keep a straight face). "Ladies and gentlemen, could I have your attention please. Ah, I'd like to tell you we're going to do a sad song for you. This song here is one of the saddest songs we've ever heard. It really tells a story friends. Beautiful lyrics. It goes something like this." He then launched into a full version of the song. Elvis was shown in full during this performance. Again, Presley drew more than 60 million viewers.

Presley's "Hound Dog" sold over 4 million copies in the United States on its first release. It was his best selling single and starting in July 1956, it spent a record eleven weeks at #1. It stayed in the #1 spot until it was replaced by "Love Me Tender", also recorded by Elvis.

In March, 2005, Q magazine placed Presley's version at number 55 in its list of the Q Magazine's 100 Greatest Guitar Tracks. Rolling Stone magazine ranked it #19 on their list of the 500 Greatest Songs of All Time- the highest ranked of Presley's eleven entries.
Tracklisting