I Sing All Kinds
CD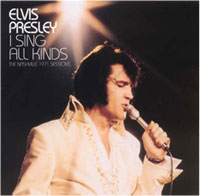 Released: 2007/07/09
by FTD
A compilation of outtakes from the sessions in Nashville during 1971.
ElvisNews review
After the throwaway soundtrack "Easy Come, Easy Go" I needed some real music to listen to. Since I always loved the "He Touched Me" album, I decided to give "I Sing All Kinds" a go first.

Design

This time the design is simple yet tasteful. Two beautiful live shots on the front and back and a candid of Elvis and the gang arriving at Studio B behind the tray. The take info and musicians are all listed so absolutely no complaints here.

Content

For starter we get take 4 of "Bosom Of Abraham", which has always been one of my favourite classic up tempo gospels. He really rocks my soul here. "I've Got Confidence" (take 1) is another reason why I loved the before mentioned album. The next course during this delicious meal is "An Evening Prayer" (take 5). Not exactly my taste, but it is digestible.

Gordon Lightfoot's "For Lovin' Me" (take 10) and "Early Morning Rain" (take 11) bring my taste buds to a higher level. It tastes like more… why didn't Elvis make that "Elvis sings Gordon Lightfoot" album (as he should have done with Dylan songs)?

"Fools Rush In" (take 14) and "Help Me Make It Through The Night" (take 6+7) are nice side dishes, but nothing more. Ivory Joe Hunter's "It's Still Here" (take 2, 3 and 1) and "I Will Be True" (take 1) are tasteful, yet they miss the finishing touch. "Until It's Time For You" (takes 5 & 6) isn't as soporific as the released version, but I could have done without it. Takes 6 and 7 of "It's Only Love" are sliced and together with "I'm Leavin'" (take 3, "this thing is worth working on") and "Love Me, Love The Life I Lead" (take 4) they form the main course for me. It's a pity the taste is spoilt by the salt less "Padre" afterwards, but "Seeing Is Believing" (take 7, with a nice finishing touch) and "A Thing Called Love" (take 1) make up for that. "Put Your Hand In The Hand" (take 1) has an indefinable taste. Sometimes I like it, and sometimes I don't. Thanks to Madison's release of last year the "Johnny B. Goode" jam isn't brand new, but still it is a nice sauce on the meal.

The desert is formed by a couple of Christmas tunes, which are all sweet except "Holy Leaves And Christmas Trees" which is not my piece of cake.

Conclusion

Describing the whole I can only say that Ernst & Co did a very good job in compiling the diner. A lot of variation on the known recipes. Gladly the cook's mate Lene didn't mess up this time. All together this plate was really delicious! Burp.
Tracklisting