Elvis Presley
CD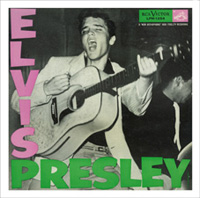 Released: 2006/06/01
by FTD
2CD set. The original LP plus outtakes. Packaged in deluxe, fold-out format (7" EP size) with booklet featuring photos and memorabilia.
ElvisNews review
50 years after its initial release this album gets the Follow That Dream gatefold make-over. Could it get any better than it already was?

Design

Both the design and the content rocked when it first came out. The live picture of Elvis screaming his lungs out, in Tampa Florida, set a generation free. It was a bold choice to select this image for the cover but it became a classic, imitated many times, even by some big names in pop music, but equaled … never!

The booklet – illustrated with memorabilia - contains more images of the boy who would become a king overnight scoring the first million-selling Popular Music LP and the world's first #1 Rock And Roll album. It describes the few months leading up to these historical events until it reached #1. Besides this historical information it contains background information on the takes on this release.

The only thing we can come up with these releases is that it is a pity they don't use the vinyl look CDs which have been used on several Elvis CD and single releases the last few years.

Content

This release rocks! It did when it first came out; it does when listening to it 50 years down the line. Kevan Budd did the restoration of these tapes and the transfers were made using DSD technology. We may be thankful that fifties fan Ernst Jorgensen is in charge of Elvis catalogue, making sure this historical album gets the treatment it deserves. I don't think many producers would have allowed all this material to be restored to this quality. These songs sound like they were recorded yesterday, so crisp and clear.

And right Ernst was, these recordings mark the breakthrough of Rock And Roll to the general public. I would say, make sure this release is available worldwide and only through the fan clubs. Many of the classic albums from the past have been released as special packages keeping up with the best possibilities at the time of (re)release. Elvis' classic albums somehow never did.

As for the content, does it need a review? The tracks are all classics going back to the SUN era, with RCA imitating Sam Philips "slap back" sound using several recorders and Sam's "echo" with a stairwell. Stories like this add to the history of a classic release like this. You hear Elvis making history, and doing so having fun in the studio with everyone involved. All the chatter and working on the songs makes this a very vivid release to listen to (over and over again).

The outtakes, presented in their historical order are a joy to listen to. When we reviewed the "Loving You" album we were not very enthusiastic on all the takes of that soundtrack song, mainly because the song isn't as vivid as these classic Rock And Roll gems. What still makes me wonder is why "Heartbreak Hotel", the song that made it all happen, was left off this album. That breakthrough song would have linked this album to musical history. Now Elvis remains a single artist, contrary to an album artist (the favorite medium of most music critics).

Conclusion

This release rocks! The original album did when it first came out and still does when released 50 years down the line. I'm not a real big fan of all the reissues and repackaging of the same material (including this album twice since 2005) but if I can get Elvis complete catalogue in this quality and in a package like this, I'll renew it completely.
Tracklisting