Clambake
CD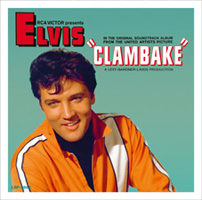 Released: 2006/06/01
by FTD
Follow That Dream collectors edition of the Clambake soundtrack album with previously unreleased bonus material. Packaged in deluxe, fold-out format (7" EP size) with booklet featuring photos and memorabilia.
ElvisNews review
One of the three releases on the FTD in July 2006 is the soundtrack of "Clambake". Was it worth buying?

Design

As we are used to by now in the original cover art series, this release is a little jewel design wise. A great booklet, with some marvelous pictures gave me a lot of pleasure while thumbing through it.

Content

I have to admit that this soundtrack was one of the first "old" Elvis LPs that I bought back in the 70s. Back then I was caught by the positive catchy nature that a lot of the songs showed. My English wasn't good enough to understand most of the (often silly) lyrics yet, and I think that helps a lot. What do I think of that same album some 30 years later?

An album that starts with "Guitar Man" can't be wrong, and from the other bonus songs I still dig "How Can You Loose What You Never Had" and "Big Boss Man". I can't remember exactly, but I don't think I ever liked "Singing Tree" and "Just Call Me Lonesome" never really caught me either, since I dislike the sound of a steel guitar as long as I can remember, it always makes me nervous. Talking about that instrument… "A House That Has Everything" is probably the only song starring it that I can stand. From the soundtrack I still love the beautiful ballads "You Don't Know Me" and "The Girl I Never Loved". The up-tempo songs, like the title track and even the stupid "Hey, Hey, Hey", benefits from the fact that I have just listened to "I Found My Thrill" (for the first and last time), another recent FTD-release. After hearing that boring CD these tracks are welcome (as a matter of fact, even "Singing Tree" – which is playing right now - is acceptable).

The bonus songs appeared to be mainly my favourites, so that was easy scoring. I don't really feel like searching for which takes are actually unreleased – even on bootleg, if there are any… I decided just to enjoy the man and his music.

Conclusion

If you told me a couple of years ago that one day I would enjoy the "Clambake"-soundtrack more than a complete soundboard show of 1974, I would have looked at you as if you were crazy. Now I have to admit it is possible… "Hey, Hey, Hey".
Tracklisting